Captain America Drop Kicks An Ultron Bot In Avengers 2 International Clip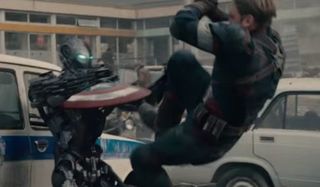 Fancy seeing Captain America drop kick and decapitate an Ultron bot? Of course you do. So I'm not going to waste your time with any preamble, just watch the Australian television spot for Avengers: Age Of Ultron and immediately start to salivate.
Sensational. Despite being just 15 seconds long, this brief look at Joss Whedon's hugely anticipated sequel rams home the two main aspects of Avengers: Age Of Ultron. Firstly, that the world is in utter chaos because of Ultron's decision to wreak havoc across the globe. And secondly, that the Avengers themselves are going through their own issues. That's why Iron Man has created a Hulk-buster suit that he uses to drag the big, green monster through a skyscraper.
The fact that both Thor (Chris Hemsworth) and Captain America (Chris Evans) are easily able to destroy the Ultron bots with an almighty swing of their hammer and shield, respectively, suggests that we're going to get action scenes reminiscent of Age Of Ultron's predecessor (2012's The Avengers) and The Lord Of The Rings: The Return Of The King. In these films, each of our heroes took down the repeated sway of enemy soldiers with no difficulty, and the directors of these films made sure to keep audiences entertained by injecting humor and making the characters work as a tag-team to defeat them. Thor's thwack of Cap's shield with his hammer suggests Age Of Ultron's battle scenes will be broken down in this manner, too.
Meanwhile, one of the most prominent aspects of Avengers: Age Of Ultron's promotional campaign has been the tease of Iron Man (Robert Downey Jr.) and The Hulk's (Mark Ruffalo) tussle. Because of The Hulk's height, weight, anger and gamma-ray advantage over his metallic pal, Tony Stark has created a Hulkbuster suit to tackle Bruce Banner's less-than-friendly alter-ego. Many rumors have started to circulate about the reasons for their tussle. Some have suggested that Iron Man resorts to tackling The Hulk because he has lost control and is wreaking havoc in a heavily populated area, while it's also been teased that they go toe-to-toe just to see who is tougher. Scarlet Witch might also factor in to the fray, from what we have heard. Either way, the tease of their tussle has done a great job of amping up anticipation ahead of Age Of Ultron's release, so much so that Avengers 2's box office predictions are insanely high.
And now that we know that Captain America: Civil War will revolve around an almighty quarrel between Iron Man and Captain America, it basically proves that Age Of Ultron will help to sow these seeds ahead of Steve Rogers' third solo adventure in 2016. But before that though, Avengers: Age Of Ultron will hit cinemas on May 1st. And it promises to be a pretty big deal.
Your Daily Blend of Entertainment News