Captain America and Star-Lord Made The Greatest, Most Heartwarming Super Bowl Bet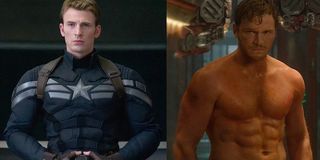 Star-Lord and Captain America are two of our most beloved Marvel characters. Both superheroes are kind and flawed, and both have tough moral grounds; just a few of the reasons we love them. Above all else, though, Star-Lord and Captain America both fight for causes of good, which makes it extra awesome when the actors behind them doubly back up those sentiments. And that is exactly what they did with their latest, most-heartwarming Super Bowl bet where the loser has to pay a visit to a children's hospital.
Upon finding out his team, the New England Patriots, were to face Chris Pratt's (Star-Lord/Peter Jason Quill) Seattle Seahawks in the 2015 Super Bowl, Chris Evans (Captain America/Steve Rogers) took to Twitter to vocalize his opposition.
Pratt, in true Star-Lord fashion, stood toe to toe with Evans, throwing back this little counterpunch.
That was enough for Evans to take things to the next level, prodding his Marvel cohort to lay out the terms of a wager.
And that's exactly what the Guardians of the Galaxy star did. No, we're not talking about throwing a little cash on the line. We're talking about doing some good in the world. That's right... a bet that ends with the loser performing a good deed to better the world. I mean, what else would you expect from the two guys behind the likes of Rogers and Quill. So what exactly will the "loser" have to do, you ask? If Pratt's Seahawks win, Captain America must "fly himself to Seattle" to visit Seattle Children's Hospital and "wave the 12th man flag." If Evans' Patriots are victorious, Star-Lord must pay a visit to Christopher's Haven.
So there you have it, folk. Two actors who fight for the good of humanity as superheroes in the movies, pushing one another to do more of the same in real life. What more could we ask for? And to top things off this isn't the first time either actor has done a little good. Evans recently visited the sick children at Christopher's Haven a few weeks ago and Pratt donned his Star-Lord gear for the kids at Children's Hospital back in August of last year. Nice work, gentlemen.
Chris Pratt is expected to reprise his role of Peter Quill in the 2017 release of Guardians of the Galaxy 2. Evans will appear in Avengers: Age of Ultron, which hits theaters in May and Captain America: Civil War, expected next year.
Your Daily Blend of Entertainment News