Chris Pratt Dresses As Star-Lord, Entertains Patients At A Children's Hospital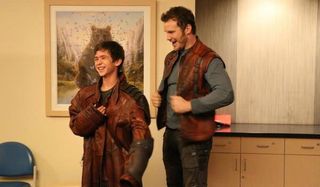 He's the summer's biggest winner. He's an ice-bucket challenge master. Now, Chris Pratt is a real hero to boot, bringing tons of joy--not to mention Guardians of the Galaxy--to kids who could really use a good day. Above is a picture shared by Children's Hospital Los Angeles on Twitter. Get ready to gush.
E! reports Chris Pratt co-ordinated with Marvel and Children's Miracle Network Hospital to create a special screening of Guardians of the Galaxy for an audience who may have missed out on one of summer's biggest hits. The critically heralded superhero movie played yesterday for the patients, families and staff of Children's Hospital Los Angeles. But as you can see from the pic up top, that's not all. Pratt came to the event in full Star-Lord gear, and spent time with the kids afterwards.
Who among us doesn't envy that boy, all cozy in Star-Lord's beloved leather coat?
Pratt hung out at the hospital for three hours, playing with the kids, taking photos, signing autographs, and giving out movie-themed toys, not just from Guardians of the Galaxy but also from his other blockbuster of 2014, The LEGO Movie. The Mary Sue tipped us to the pic below, which features Pratt paying with Dylan "Lego Kid" Prunty whose Make-A-Wish pick was for a LEGO replica of the hospital, which you can see in the background. Pratt reportedly re-enacted scenes from The LEGO Movie with Prunty, and seems to have signed some of Prunty's prized swag. Check it out, courtesy of Reddit user angelkirie...
The best part about this charming act of charity is that Pratt did it true to Star-Lord's M.O., mixing something good with something bad. "A bit of both," if you will. See, the reason Pratt was able to swagger into the Children's Hospital in full Star-Lord regalia was pretty outlaw. He stole it.
You can see him talk about that below, confessing he stole the jacket so that he could bring this movie hero into the lives of kids in need of a role model.
Just when we thought we couldn't possibly like this guy any more.
Your Daily Blend of Entertainment News
Staff writer at CinemaBlend.