Watch Chris Evans Meet A Hospitalized Kid, Live Up To Captain America Title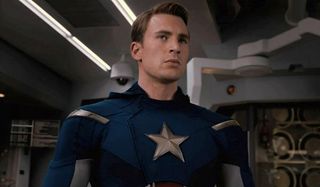 Chris Evans may only be Captain America when he is on screen in the Marvel Cinematic Universe, but he just proved that the good-hearted superhero qualities he portrays through his character are also true to himself. Evans made a young boy's dream come true, when he showed up to surprise the Captain America fan. Watch the adorable interaction below:
Towards the end of December, WBZ-TV caught Chris Evans surprising a 9-year-old fan suffering from a brain tumor at Christopher's Haven in Boston, Kenny. Kenny is a huge Captain America fan, and was absolutely ecstatic to see the actor in real-life. They took pictures together, Evans gave Kenny lots of signed goodies, and he even got to tie Captain America up. Kenny got to show his favorite superhero his bedroom and wicked fort. Evans exclaimed his own excitement at the fort, and you can tell from the young cancer patient's reaction, that the actor truly did make his day.
Evans, a Massachusetts native, was in town for a fundraising event for Christopher's Haven at Fenway Park. He took the extra time to visit young Kenny and give him the smile he'll never forget. Evans told WBZ-TV:
Oh Captain America. Always the kind-hearted and caring character that just wants to protect and serve. We've seen Chris Evans portray Steve Rogers in multiple MCU films now, including Captain America: The First Avenger, The Avengers, and Captain America: The Winter Soldier. A leader and a patriotic icon, Captain America always remains level-headed through battle and is highly-respected by the other Marvel superheroes. He may not have the genius of Tony Stark or the other-worldly powers of Thor, but he serves as the true American hero.
We've seen Captain America tested time and time again, but he still remains true to himself. And Chris Evans is set to reprise the role in more films to come. In Avengers: Age of Ultron in theaters May 1, 2015 we'll watch as Cap and crew take on the testy villain, Ultron. While the Steve Roger narrative has been rooted in the present as of late, the Avengers: Age of Ultron trailer teases a flashback that may give us even more information into the Captain's past. We also have another solo film to look forward to in the near future. Captain America: Civil War will be released May 6, 2016 and while we are still waiting on more details, it's bound to be yet another exciting look into the fan-favorite superhero.
But, one of the more amazing aspects of portraying a popular superhero on screen is that the actor becomes a face of that character, a role model for all those kids out there watching the movies and wanting to wear a cape (or hold a shield). Accepting that responsibility can be difficult, but Chris Evans proves that doing great can go beyond the screen.
Your Daily Blend of Entertainment News
Thank you for signing up to CinemaBlend. You will receive a verification email shortly.
There was a problem. Please refresh the page and try again.