The Guardians Of The Galaxy Soundtrack Has Sold A Crazy Number Of Copies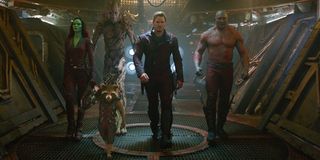 One of the most surprising aspects about Guardians of the Galaxy has been the success of its soundtrack album, "Awesome Mix Vol. 1." The collection of 1970's rock hits and AM radio guilty pleasures made waves last summer when it managed to top the Billboard 200 album charts. Well, it seems that momentum never did stop. Now, the tone-setting killer playset can add another mind-blowing accolade to its list of accomplishments: Over a million units shipped!
Guardians writer/director, James Gunn, hard at work on the upcoming sequel, announced the good news on Facebook, adding:
While not containing any original music, the soundtrack proved itself integral to the film in just about every conceivable way. Not since Quentin Tarantino's early films has a selection of songs known from popular culture proved so crucial to the storytelling aspect. Besides having the distinction of being a key object in the film itself in the form of Peter Quill's mother's mix tape, each song serves as a jangly, accessible buoy which helped navigate the emotional interest of the audience through this vast new setting. Of course, music has always had that manipulative effect, even with your standard orchestral score. However, popular music tunes tends to carry more meaning to a moviegoing audience, since they come with a cultural baggage and are often associated with personal memories.
Marvel Studios certainly wasn't playing things safe when they decided to move forward with Guardians of the Galaxy. We were finally going to see the UNIVERSE in the Marvel Cinematic Universe, something that could have easily lead to the moment that the shark was finally jumped; even if the Guardians characters themselves were well known, which they were not. What we got along the way were chill tunes which, in the best way possible, seemed to counter the sublimity of what we were witnessing and did more to get us into the mind of main character, Peter Quill/Star-Lord than any bit of dry dialogue ever could accomplish. Essentially, it turned this sci-fi-ish world of alien creatures, space pirates, and Infinity Stones into a chill, accessible road movie with a smooth jailbreak sequence.
For me, the scene where the team arrived at Knowhere, flying into the severed head of a long-dead celestial entity as David Bowie's "Moonage Daydream" played was the perfect mid-movie awe-inspiring check to the gut, reminding the audience of the eccentricity of the film's beautifully screwed-up universe.
After 24 weeks, "Awesome Mix Vol. 1" currently remains at number 8 on the Billboard 200 chart, just above One Direction's "FOUR."
Your Daily Blend of Entertainment News
Thank you for signing up to CinemaBlend. You will receive a verification email shortly.
There was a problem. Please refresh the page and try again.