The Captive Trailer: Hollywood Made Another Christian Movie And It Actually Looks Great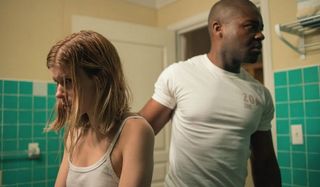 After his stirring performance as Martin Luther King, Jr. in Selma, David Oyelowo returns to the big screen in another story based on true events. The Captive trailer gives us new footage of the actor as Brian Nichols, the man who, in 2005, famously broke out of prison and went on a killing spree. This film, however, is more about the relationship he developed with one of his kidnap victims, played by Kate Mara.
As you can see, Captive also features Fantastic Four and The Martian star Kate Mara as Ashley Smith. As a recovering meth addict, she regularly attends support groups, though she's struggling to maintain a job, having already lost her daughter to the system. Meanwhile, there's Brian. He discovered he had a baby son after he was sent to prison for rape. In a desperate attempt to see his son, he broke out of jail, killing the judge presiding over his trial, a court reporter and a sheriff's deputy. Later on, he added a federal agent to his kill list. While on the run, though, he kidnaps Ashley inside her own home, but in the emotional turmoil of this event, they both turn to The Purpose Driven Life. Rick Warren's bestselling self-help and religious book seeks to answer the question, "Why are we here?" It's by reading this aloud that both Brian and Ashley face their own crossroads.
The film is based on the novel Unlikely Angel: The Untold Story of the Atlanta Hostage Hero written by the real-life Ashley with help from contributor Stacy Mattingly. Oyelowo said earlier this year that he was happy to continue his relationship with Paramount, the studio that distributed Selma, with a story about how a broken spirit is mended by an unlikely source of hope. Boardwalk Empire's Michael K. Williams, Mimi Rogers, Jessica Oyelowo and Leonor Varela also star in Captive.
This trailer first debuted on iTunes Movie Trailers (opens in new tab), and the film itself is another interesting project from both Oyelowo and Mara. The former garnered attention for his minor roles in Interstellar, Lee Daniels' The Butler, A Most Violent Year, Jack Reacher, Lincoln and The Paperboy, but Selma further established him as leading man material. For Mara, her sister, Rooney, was stealing the spotlight with The Girl with the Dragon Tattoo, but now Kate has a major franchise under her belt, and she continues to scoop up more credits. She can be seen next in Fantastic Four (as well as the sequel), The Martian opposite Matt Damon and Jessica Chastain, and Man Down with Shia LaBeouf and Jai Courtney.
Captive is directed by Jerry Jameson of Last Flight Out and Walker Texas Ranger, and it will hit theaters on September 18.
Your Daily Blend of Entertainment News
Thank you for signing up to CinemaBlend. You will receive a verification email shortly.
There was a problem. Please refresh the page and try again.