Carla Gugino Is Elektra Luxx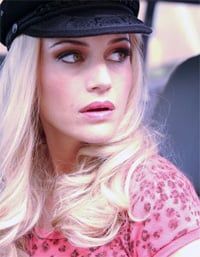 After Carla Gugino's revealing role in Sin City, I doubt there's a red blooded American male (or one from any other country) who isn't interested in seeing her upcoming film Women in Trouble, which places the actress in the role of a prostitute. It's unlikely the comedy will show as much of Gugino as Sin City did, but it should still be an enjoyable ride, with an already green-lit sequel already in the works.
Jo Blo.com has managed to get their hands on the first picture of Gugino as Elektra Luxx in Women in Trouble. The easily offended need not worry - she's fully clothed. She still does look awesome though, as you can see to the right in a smaller version of the picture.
Women in Trouble features Gugino along with Emmanuelle Chriqui, Connie Britton, and Marley Shelton, among others, all playing (if you couldn't tell from the title) women, in trouble.
Click here to see a larger version of the image at JoBlo.com.
Your Daily Blend of Entertainment News
Thank you for signing up to CinemaBlend. You will receive a verification email shortly.
There was a problem. Please refresh the page and try again.