Carla Gugino Joins Mr. Popper's Penguins And Might Do Something Good After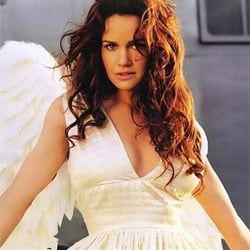 Carla Gugino's next movie will be Mr. Popper's Penguins, a family movie based on a children's book and starring Jim Carrey. This is good news for Gugino fans, since she usually follows up her work in horrible family films with challenging R-rated movies and borderline softcore pornography.
After doing Spy Kids with Robert Rodriguez she was naked and dismembered for Sin City. After Night at the Museum she was business casual hot in the R-rated The Lookout, one of the best, but least watched movies of 2007. After Race to Witch Mountain she played a porn star in those Elektra Luxx movies which no one saw (still it's the thought that counts). And now she's doing Mr. Popper's Penguins. That's likely to be followed by the already announced M.I.L.F., but if that doesn't pan out I'm sure she'll find some other reason to be sexy.
First though, we have to fight through Mr. Popper's Penguins, which Variety says Mark Waters will direct. Waters directed Mean Girls, which sounds good, until you read the rest of his resume. It's the only good thing he's ever done. The rest of his work has been forgettable kiddie fare like Freaky Friday and The Spiderwick Chronicles or unforgiveably awful movies like Ghosts of Girlfriends Past. I feel confident in saying that twenty years from now, Mark Waters will still be remembered only as the guy who directed Mean Girls.
The thing is, adapting children's books almost never works. They're children's books. In general there's even less story present to work with than in adapting a video game shooter. Hollywood hasn't quite figured out how to differentiate between the kids' books worth adapting, like Harry Potter, and the ones that really aren't, like Legend of the Guardians. They just count up how many copies the book sold and sign up. In this case, the book sold but the story sounds pretty thin. Carrey will play Mr. Popper, a New York businessman who suddenly inherits six penguins. I'm imagining Hotel for Dogs meets Madagascar 2, and that doesn't seem good at all. No word yet on who Gugino's playing in the film, but if she's one of the penguins, I reserve the right to increase the size of my already large disinterest in this movie exponentially.
Your Daily Blend of Entertainment News
Thank you for signing up to CinemaBlend. You will receive a verification email shortly.
There was a problem. Please refresh the page and try again.