Carmen Electra Plays A Porn Star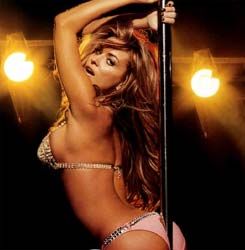 She's only half a step away from one anyway, so it kind of makes sense that Carmen Electra would be in a movie where she plays a porn star. Actually, I'm kind of surprised it hadn't happened already. But Carmen is getting to pretending to do porn now, for the film I Want Candy. The story comes from Aceshowbiz where they say she's just started shooting the movie in the UK.
I Want Candy is about two frustrated film students played by Jimmy Carr and Mackenzie Crook who end up making a movie of an "adult" nature when they go to London to sell a script. They get Carmen Electra to star, and somehow things go awry when their parents are involved. I'm not sure why they're involved, probably for comedic angst.
Yeah it's a comedy, but probably not a good one. It's written by Peter Hewitt, who has a story credit on the Jonathan Frakes live-action puppet movie Thunderbirds and who directed such dubious classics as Bill & Ted's Bogus Journey, Garfield, and last year's Zoom. But then it has Carmen Electra as a porn star, so I'm not sure it really needs to be good.
Your Daily Blend of Entertainment News
Thank you for signing up to CinemaBlend. You will receive a verification email shortly.
There was a problem. Please refresh the page and try again.