Cary Elwes To Write Princess Bride Memoir As You Wish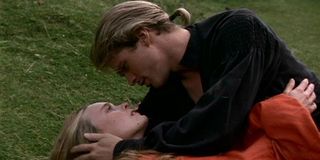 He stole our hearts as Westley, the stable boy turned Dread Pirate Roberts, in The Princess Bride, and now 26 years after the fantasy romance's release Cary Elwes is putting pen to paper to tell us all about its creation. THR reports Elwes will revisit the most beloved picture in his filmography for a memoir called As You Wish: Tales from the Princess Bride.
Elwes told THR that it was the cast reunion that took place last year at the New York Film Festival to mark The Princess Bride's 25th anniversary that inspired him to channel all his warm recollections into a book for megafans. He explained in a statement:
With the help fo Joe Layden, Elwes's memoir will also include insight and stories from fellow Princess Bride cast members Billy Crystal, Robin Wright, Carol Kane, Christopher Guest, and Chris Sarandon. Plus, William Goldman, who wrote the novel on which the film is based, will weigh in, while director Rob Reiner will write the book's foreword. Sadly, you'll notice some apparent gaps in the cast here. Of course Andre the Giant, who played the lovable brute Fezzik, passed away in 1993, but shockingly neither of his onscreen cohorts Mandy Patinkin and Wallace Shawn are said to be contributing to this book. Say it with me: Inconceivable!
All kidding aside, it is a disappointment to hear that neither Shawn or Patinkin are connected to the project, as their characters--the strategic genius Vizzini and the revenge-seeking Spaniard Inigo Montoya--delivered two of the film's most popular lines. Here's hoping they'll have a change of heart in time to be welcomed into the fold. And as frustrating as his whiny character is within the film, I'd be glad to hear Fred Savage share his thoughts on the movie and its making as well. Nonethless, As You Wish: Tales from the Princess Bride seems like it will be a wonderful addition to the book collections of those of us who grew up bellowing, "Hello! My name is Inigo Montoya! You killed my father. Prepare to die!"
Revisit the original trailer, and a behind-the-scenes featurette about that classic sword fight scene from the 25th anniversary edition Blu-ray:
Get More: MTV Shows
Simon & Schuster anticipates As You Wish: Tales from the Princess Bride will hit bookshelves by fall of 2014.
Your Daily Blend of Entertainment News
Staff writer at CinemaBlend.