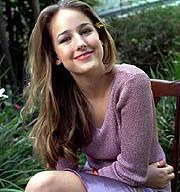 A trio of actors have been added to Jon Avnet's thriller 88 Minutes, starring Al Pacino. He may need some extra comfort after the dismal reviews and box office for his latest flop Two For The Money. I'm not sure exactly what went wrong there, but it looks like a decent movie. Perhaps I am just blindsided by McConaughey's ripped physique.
According to Hollywood Reporter, 88 Minutes recently welcomed Leelee Sobieski, Alicia Witt, and Neal McDonough to the cast. Helen Hunt...I mean, Leelee, has been working on Neil LaBute's The Wicker Man, and Neal McDonough is busy with Clint for Flags Of Our Fathers. Alicia Witt was last seen in The Upside Of Anger, opposite Joan Allen.
In 88 Minutes, Pacino plays a college professor who moonlights as an FBI forensic psychologist. After being told he will be murdered in 88 minutes, he flips out and tries to figure out how to avoid his doomsday. McDonough will play a death row inmate who Pacino suspects of trying to kill him, and Sobieski will be one of his students. Witt takes the role of a teaching assistant and love interest for Pacino's character.
Sounds like a solid premise, although Pacino and Witt together makes me a bit queasy. When did having romps with grandpa become sexy? I must have missed that day in class.
Your Daily Blend of Entertainment News