Catching Up With Kermit, Miss Piggy And Walter On The Set Of Muppets Most Wanted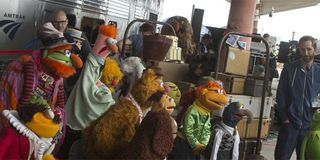 It was a little over two years ago when audiences around the world were re-introduced to the wonderful gang of performers known as the Muppets. Breaking a painful stretch of 12 years without a theatrical release featuring the Jim Henson creations, James Bobin's The Muppets not only introduced the characters to a whole new generation, but also reinvigorated a deep love in older audiences as well. Thankfully the amazing film was successful enough to spur a sequel, and back in May of last year I took a drive over to Union Station in downtown Los Angeles where I joined a small group of other film reporters and enjoyed a full day on set of Muppets Most Wanted, watching the production in action and interviewing the people and Muppets who made it all happen.
The first direct sequel in the Muppet movie franchise, the new film picks up almost immediately after the end of the last story and finds the cuddly, hard-working troupe once again famous and back on top of the world. In order to celebrate the comeback, they organize a touring trip around Europe, but wind up getting in some serious trouble when they become deeply involved in a plan by the world's most notorious thief, Constantine.
The scene we got to watch them shoot takes place early in the film and was shot to actually take place on-location at Union Station. Nearly 20 different Muppets – ranging in size from Rizzo The Rat to Sweetums – sat on the train platform surrounded by large, stacked piles of luggage containing random things like musical instruments, Pigs in Space props, and even a bull in a crate. Quieting everybody down, Kermit addressed the group announcing that they were finally ready to embark on their world tour, and that he planned it out in classic style by booking a tour train (never bothering to mention how a train would get from LA to Europe). The Muppets look behind Kermit in awe at the shiny train behind him, but then Kermit tells them that's not the train he means. The fancy train then pulls away to reveal a significantly crappier train that has Beauregard the janitor sitting in the front seat – much to the dismay of all the Muppets. The production used a blue screen for both of the trains in the shot, but it was absolutely spectacular just watching the reactions change from jubilation to despair on the faces of the Muppet crowd.
Standing on set and watching the Muppets act less than 10 feet away from me had my inner child running around like his hair was on fire and is certainly a memory that I will never forget for the rest of my life, but that wasn't even the best part of the day. Instead, that honor goes to getting the chance to speak directly with Kermit, Miss Piggy and Walter about not only what their roles are in the new movie, but also just what they've been up to since we last heard from them.
Assimilating Walter
James Bobin's The Muppets was not only successful bringing some wonderful characters back to the big screen, but also in introducing a great brand new one. Walter was a fantastic, hilarious addition to the legendary troupe in the last movie and meshed perfectly with the classic style (no surprise given that he is a life-long fan). Now a part of the group, Walter is set to return in Muppets Most Wanted, and he couldn't be more appreciative of all the love he's received from both the fans and his co-stars. "It's a dream come true over and over," he told us on set. "Every day I have to keep pinching myself. I'm covered in bruises, which is why I wear long sleeves."
Since making his debut, Walter has grown much closer with some of the other Muppets, but others have still found themselves getting used to his presence. Of the rest of the gang, he has found that he has most closely bonded with Fozzy Bear, though their relationship is a bit strange due to the fact that Walter grew up watching The Muppets Show. "It's so weird to be friends with somebody I was a fan of first," Walter told us. "It's kind of amazing. Every now and then I have to step outside of myself and say 'Oh my gosh, I'M FRIENDS WITH FOZZY BEAR! Okay, be cool, Walter, be cool.' It's a fine line."
One of the more tricky relationships he has created has been with Rowlf the Dog – mostly because of the latter's dog-like habits. Said Walter, "Rowlf will sometimes come up to me and look at me like he's never seen me before. Then he sniffs me and he goes, 'Walter!' I was not ready for that."
Miss Piggy has also been rather slow in fully accepting Walter as one of the Muppets. When we asked her if we would be meeting any new characters in Muppets Most Wanted she told us that she still considers Walter to be the newbie. "He keeps messing up my coffee order," she said. Until he gets that right, we're going to keep calling him 'the new guy'. Really, who needs anybody new when you have moi?"
When we told Walter about Miss Piggy's comments he responded, "She still thinks I'm the coffee boy. She's another one who doesn't remember me, but it doesn't seem to help if I ask her to smell me."
Saying Goodbye To Jason Segel and Amy Adams
While Walter will be back on the next adventure with the Muppets, the same cannot be said for the actors who played his brother and future sister-in-law. Despite their absolutely wonderful contributions to the first movie, because all of the characters are moving on to a new adventure there was simply no place to include them in the story.
"It's not actually addressed," Kermit told us when asked about Segel and Adams not returning. "It's just we're moving on from where we left off in the last movie. So Gary and Mary, that they play, just sort of aren't a part of this particular story. It will all become clear in the first scene. You will immediately know. So yeah."
Given that Walter shared so much time with Segel on the set with the movie it's no surprise that not having him back has affected him the most of all the returning stars. As the first movie explored, part of growing up is having the strength to move on to bigger and better things in your life, but there is still a part of Walter that misses his co-star. "I will always have a special place in my heart for Jason Segel, my movie star brother, but I think he's doing great," Walter said. "We're both doing great."
Sadly, Miss Piggy's egotism and self-obsession really prevented her from connecting with her human co-stars. As our first interview of the day, we asked her if Segal and Adams' absence would be addressed in Muppets Most Wanted, but she replied sarcastically, "If you want to write them a post card and address it to them, you may. I really don't see the point of it myself. This is a Muppet movie you know. Nobody really cares about the humans."
Not having to compete with Adams as the film's female lead is something that Miss Piggy has cherished in the experience of making the latest Muppet movie, mostly because in this one she actually gets to perform a solo. Asked if she thought that Adams' part in "Me Party" was the reason why the song didn't win an Oscar, Miss Piggy said, "We'll just see if she's in the new movie, won't we? We'll just see if it was in somebody's contract that she was not allowed back in the sequel to the successful first film that was so successful because of me."
Saying Hello To Ricky Gervais, Ty Burrell and Tina Fey
Just because Jason Segel and Amy Adams won't be back, however, doesn't mean that Muppets Most Wanted won't be without its fair share of human actors. In addition to featuring a number of big celebrity cameos – in true Muppets tradition – the film will also feature Ricky Gervais, Ty Burrell and Tina Fey in important supporting roles. Gervais will be playing Dominic Badguy, the sidekick of the film's main villain, Constantine; Burrell stars as Jean Pierre Napoleon, a French INTERPOL agent on the hunt for Constantine; and Fey will be featured as Nadya, a Russian prison guard.
Naturally Miss Piggy didn't really care too much to talk about anyone other than herself, but she did at the very least recognize Gervais. "He's somewhere in the background," she told us. "He did that show Extras which I saw and I thought he would be perfect to be an extra in my movie."
Conversely, Kermit only had the nicest things to say about his new co-stars, detailing exactly what he loves about each one of them. He was particularly fond of Gervais, who he said "will probably become an honorary Muppet," but added wonderful comments about Fey and Burrell.
"Tina was fantastic, I can't imagine anybody else having played the role of sort of the mistress of a gulag. As Tina put it, her character Nadia loves prison, so it's a little strange. She does a number that very much reminds me of the Rocky Horror Picture Show.
"And Ty, Ty is wonderful. Ty is sort of, he's insane actually, he's very conservatively insane. So we love him, I mean we loved working with all those guys, and all the other guys who worked with us as well."
Walter, meanwhile, actually saw a lot of himself in Gervais, particularly in that the British star is also a huge fan of the Muppets ("He's kind of like a human Walter.") He was also astonished by Fey's singing and dancing ability, but the thing that surprised him the most about the new actors was just how much the Modern Family star towered over him.
"He's very versatile and very, very tall," Walter said. "I got a little crick in my neck looking up at the man. He's unbelievably tall. He's a giant in the industry."
Meet Constantine
Chris Cooper did a fantastic job in the last movie playing the evil, Muppet-hating oil tycoon Tex Richman, but in Muppets Most Wanted the gang will be facing off against a much different kind of antagonist. Constantine is one of the most notorious criminals in the entire world, regularly stealing priceless artifacts, but the big twist is that he also happens to look almost exactly like Kermit – save for a mole on his cheek and a thick Russian accent.
While Constantine sadly wasn't on set when we were there, I did take the opportunity to ask Kermit about his doppelganger foe. I was curious if Kermit had ever thought about playing a dual role in the movie, but it turns out that was never really an option because the star couldn't do the voice properly. "We talked about it, we talked about it but I have to admit that I am not great at doing the accent that Constantine has," Kermit said. "Constantine kind of has a European, Russian sort of accent and, by the way, Constantine is just one of my cousins from the swamp, so he just happens to have the right facial features for the role."
As for Miss Piggy, her own self-obsession apparently left her a little out of the loop when it came to Constantine. Rather than acknowledging him as a completely different Muppet, instead she thought he was just Kermit having a bad day. Asked about her time with her love's impersonator, she replied,
"A Kermit impersonator? Where did you hear such a foolish thing? There can only be one Kermit. I have no idea what you're talking about. But I will say that some days Kermit seemed more like himself than others. Some days he would come along and be the very soft-spoken, gentle and handsome frog that I've always known. Then, some days he would come to work and just be barking out orders and in a foul mood and not paying any attention to me. I wonder what that was?"
We didn't have the heart to tell her.
The Kermit-Miss Piggy Romance Continues
The on-screen tempestuous romance between Kermit The Frog and Miss Piggy has been playing out for decades, but audiences have never grown tired of it. Even in the last film we were all hoping that by the end of the movie the two would be reunited.
I'm happy to report that same emotional roller coaster will be back in Muppets Most Wanted… and possibly with an added twist. Talking with Kermit about his long-lasting romance, we asked if there was a chance things were going to "heat up" between the two of them in the new movie. While he wouldn't give away too many details due to potential spoilers, he did hint that there will be a few surprises. "You know, there is a lot of heat when Miss Piggy and I are on screen. Yeah, I'm not going to tell you too much about that because it turns out that it is kind of a mistake that happens in the movie, a little bit of a tomfoolery I will say."
Miss Piggy only added to those details during her interview, going as far as to describe a special costume that she will be wearing – one that I won't ruin for fans.
While their on-screen relationship may seem very hot and cold, however, and even though she may have mistaken Constantine for Kermit a few times, Miss Piggy ensured us that everything behind the scenes of their relationship is 100% perfect (at least from her perspective). "We've always been steadfast loves," she said. "In the movies, we may sometimes have our squabbles and it may be difficult but in real life we are always truly, madly and deeply in love with one another."
Muppets Most Wanted will be in theaters on March 21st.
Image 1 of 12