This Celebrity Was Apparently Offered A Role In The Hobbit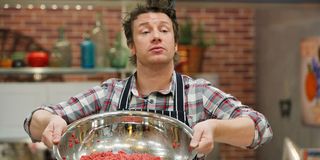 In a fun behind the scenes story that should interest any Middle-earth fans out there, it's been revealed that celebrity chef Jamie Oliver was offered a role in one of The Hobbit films if he cooked Peter Jackson's 50th birthday dinner. However, due to a scheduling conflict Oliver actually had to turn down the director's offer, even though he had big plans for playing a hobbit.
According to The Daily Mail, Jamie Oliver made this revelation during his appearance on Jamie And Jimmy's Friday Night Feast while he was talking to Kate Hudson. The television chef admitted that if he had cooked at Peter Jackson's party, which took place three years ago, he could have then featured in either The Hobbit's An Unexpected Journey, The Desolation of Smaug, or The Battle of the Five Armies.
Unfortunately, Jamie Oliver had to turn down this generous offer because he had too many other work commitments to focus on at the time, and he was beyond devastated to reject Peter Jackson's casting proposal. Not only did this mean that he was unable to launch his acting career, but there was another reason why Jamie Oliver was upset. He wanted to dress up as a hobbit to impress his wife. In fact he'd already planned to take the costume home and then tell his wife, "Jools, let's make love!" What a romantic sod.
As he was making the trilogy, Peter Jackson handed out cameos in his Hobbit films to seemingly anyone who was interested. In fact, most of the crew and some fans of JRR Tolkien's work pop up in the The Lord of the Rings and The Hobbit trilogies. The director couldn't even resist the allure to put himself in each of the films as well. You can check an image of his brief appearance in Lord of the Ring: The Fellowship of the Ring below:
Perhaps the most famous celebrity to receive a cameo in The Hobbit series was the television personality Stephen Colbert. The former Colbert Report host, who is set to begin hosting duties on The Late Show later this year, popped up in The Hobbit: The Desolation of Smaug during the Laketown sequence. Meanwhile Colbert's wife and sons were also allowed cameos in the film too. You can check out a gif of Colbert's appearance below:
The last installment to Peter Jackson's Hobbit trilogy, The Hobbit: Battle of the Five Armies, is continuing to excel at the box office. It has so far amassed over $625 million across the world, as JRR Tolkien aficionados flock to their local multiplex to say goodbye to the beloved franchise one final time.
Your Daily Blend of Entertainment News
Thank you for signing up to CinemaBlend. You will receive a verification email shortly.
There was a problem. Please refresh the page and try again.