Chace Crawford Woos His Old Babysitter Katie Holmes In Rom-Com Responsible Adults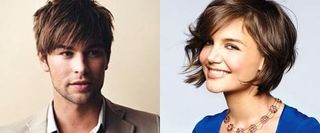 Cannes isn't just a film festival for cinephiles and international movie stars to dress up in fancy clothes and celebrate the best films by auteurs from all over the world. It also has a thriving film market, where producers and distributors present their in-the-works films to pique the interest of financiers or international distributors; it's a time when a lot of projects and casting get announced, whether or not any of those movies will actually ever come to exist. One of the likelier survivors of this year's market, though, seems to be Responsible Adults, a romantic comedy recently announced from Myriad Pictures, who are selling it in Cannes this week; it's a rom-com that stars Katie Holmes and Chace Crawford, but probably not in the kind of relationship you would expect. Here's the synopsis, via Deadline:
Setting aside the icky but potentially hilarious central conceit, I like the roles that both actors are being assigned here. Holmes turns 33 this year but has never really moved past her Dawson's Creek ingenue status, both thanks to her married-to-Tom-Cruise slow career and some bad role choices in little-seen indies like The Extra Man and The Romantics. There's no guarantee that Responsible Adults would be any more widely seen, but at least it has Holmes playing a grown-up close to her own age. In some ways Crawford is in his own early stage of Holmes's career-- famous for a role on a teen-centric TV show, suffering from just one bad indie (the Sundance bomb Twelve), and at 25 in need of growing up himself.
Neither actor has ever seemed all that interesting, and I'm not sure pairing them will make it much better, but at least they're giving it a shot. Responsible Adults-- which may need a new title, given Jason Reitman's forthcoming Young Adult-- is set to start shooting this fall, under Charlie Bartlett director John Poll.
Staff Writer at CinemaBlend
Your Daily Blend of Entertainment News
Thank you for signing up to CinemaBlend. You will receive a verification email shortly.
There was a problem. Please refresh the page and try again.