Charlize Theron Will Play A One-Armed Fighter In Mad Max: Fury Road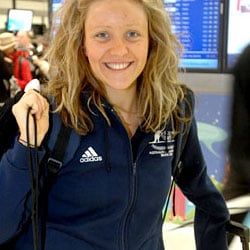 Charlize Theron may be one of the most beautiful women in the world, but Monster proved she's at her best when playing something other than a traditionally stunning beauty. So maybe it's good news that she'll show up in Mad Max: Fury Road missing a limb.
Moviehole picked up a story from an Austrlian ABC affiliate in which they reveal that Charlize's character "will have part of one arm missing". In fact they've already cast an amputee stunt double for her. Annabelle Williams, a 22-year-old competitive swimmer, has landed that job. She's missing her left arm below the elbow, which I guess suggests that Charlize will be as well.
Even though she's doubling her, it doesn't sound like Williams bears any resemblance to Charlize. She says, "Not at all. And she's about a foot taller than me." Williams will play Theron's character during fight scenes and explains, "They are going to film me from a very long distance for the fighting so that they don't have to CGI out her arm. I will be her, but just not [in] the face."
Your Daily Blend of Entertainment News
Thank you for signing up to CinemaBlend. You will receive a verification email shortly.
There was a problem. Please refresh the page and try again.