Chris Rock Thinks Black People Can't Ski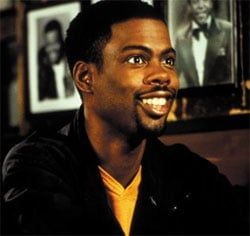 It's ironic that while Chris Rock's standup is fresh, original, and utterly unique; his movie career is probably best described as hackey. And it just keeps getting worse. Now he's gone from simply using cliché ideas to remaking things whole cloth. He's top-lining that unnecessary Death at a Funeral remake and for his next trick he's remaking a French comedy called La premiere etoile (which translates to The First Star). And none of them will be funny because Chris Rock isn't funny in movies. He may be the funniest standup ever, but when it comes to comedic actor he's always wildly out of his depth.
So here's the skinny on The First Star, the next thing he plans to ruin. Variety says he's writing the screenplay, which should be easy since it was already written once, while at the same time being impossible unless he's recently learned to read French. He'll also produce, just to make the whole thing seem more like a passion project instead of yet another Chris Rock cinematic cash-in.
The original movie was released in 2009 and told the story of a black family who leaves the hood and ends up on the ski slopes. See it's funny because black people don't like to be cold! Worse, they don't ski and everyone at the ski resort is a stuffy, uptight white person who can't dance! Hilarious! I bet Chris Rock won't fit in at all.
This First Star remake should make a great double feature with the equally outdated script I'm pitching to Dane Cook in which he plays a white guy from high-society who travels back in time to rural Georgia where he's forced to work in a cotton field. See it's funny because white people burn really easy in the hot sun! Worse, they don't pick cotton and everyone else in the field is black and there against their will! Hilarious! I bet Dane Cook won't fit in at all.
Your Daily Blend of Entertainment News
Thank you for signing up to CinemaBlend. You will receive a verification email shortly.
There was a problem. Please refresh the page and try again.