Christopher Nolan And His Wife File Lawsuit Over Movie Profits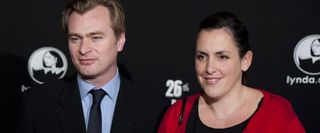 Married to his producer wife, appearing everywhere in natty suits and largely keeping to himself as much as possible, Christopher Nolan is pretty much the last person you'd expect to show up on TMZ, or in the middle of a lawsuit. But that's exactly where the Dark Knight Rises director finds himself today, with news breaking that Nolan and wife Emma Thomas are asking the court to intervene in a dispute between their former and current agents, who naturally are trying to get a hand in the millions and millions that Nolan and Thomas have made.
If you're hoping for angry suits filled with Batman gossip and secret tales from the Nolan secrecy factory, though, don't get too excited. TMZ reports that Nolan and Thomas are simply asking the court to decide which agency-- WME or CAA-- will get the money, once the couple pays the commissions they owe. The complication apparently emerges because Nolan's agent was fired from CAA earlier this year and now works for WME, and WME is now asking for commissions for movies that were made while the agent was at CAA. That doesn't strike me as particularly fair, but of course, I know almost literally nothing about how these agencies operate.
So if you're holding on to the image of Nolan as a reasonable and uncontroversial person, it sounds like you can stand by that-- but not necessarily say the same thing about agents.
Your Daily Blend of Entertainment News
Staff Writer at CinemaBlend