Christopher Plummer Admits He'll Never Work With Terrence Malick Again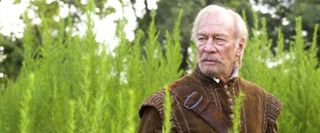 The stories about Terrence Malick are pervasive and almost mythical. A notorious recluse, it's extremely rare (in fact, nearly impossible) to catch him at an industry event or even the premiere of his films. He's obviously a master of his craft but since he makes films at a Kubrickian pace, he often drifts comfortably out of the public eye only to show up once a decade or so with a stunning piece of cinema. However, that doesn't stop the philosophical filmmaker from occasionally sharing his eccentricities with the world at large, like writing a letter to ensure the proper projection settings for all screenings of his gorgeously enigmatic Tree of Life.
Malick's idiosyncrasies know no bounds, a myth built upon stories of the man spending countless hours rewriting, shooting and especially editing his work in order to get the film exactly right. However, this very improvisational and extended mode of filmmaking doesn't sit well with everyone and at a recent round-table for The Daily Beast, Christopher Plummer, Academy Award favorite for Best Supporting Actor in Beginners, let it be known that one film with Malick, The New World, was more than enough for him. In fact, Plummer went so far as to write the director a note, "I gave him shit. I'll never work with him again... I told him, you're so boring you get in these ruts, you've got to get yourself a writer. My career with Mr. Malick is over."
It's rare for someone in the industry to be so honest but Plummer is 82 years old and still doing fantastic, award worthy work so I don't think his career will suffer from these comments. In fact, it's not that he's overly negative about the filmmaker (he actually praises a lot of the finished products) but instead the process in which Malick works. Take a look.
The interview is fascinating, especially since the stories seem to shock the other award caliber actors sitting in and listening - all except George Clooney who has had the (mis)fortune of working with Malick on The Thin Red Line. And for all Plummer's anecdotes, all his quibbles that forced him to write a not-so-nice letter to the director informing him of his need for a writer, the most egregious example of the filmmaker being oblivious to the needs of his actors is the recollection shared by Clooney regarding Adrien Brody's role in The Thin Red Line. It can't be easy to think you're the lead in a film, only to find out at a junket that you have zero lines. Ouch.
Plummer (and Clooney) still praise the undoubtedly talented Malick but not without serious reservations, with Plummer definitely saying that he would never work for the director again. I don't think it's a coincidence that there are very few, if any, actors who return to work with the director but perhaps now that he's a little more prolific, maybe he won't be able to deviate from the scripts as much and ensure that if you were cast as the film's lead, you'll still be the film's lead when you watch it in theaters how ever many months later. Poor Adrien Brody.
Your Daily Blend of Entertainment News
Your Daily Blend of Entertainment News
Thank you for signing up to CinemaBlend. You will receive a verification email shortly.
There was a problem. Please refresh the page and try again.