The Church Of Scientology Is Allegedly Making Its Own Documentary About Going Clear's Director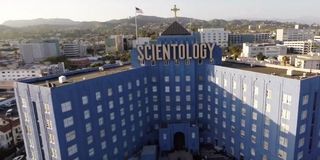 Director Alex Gibney's documentary Going Clear: Scientology and the Prison of Belief made some serious waves when it was released last march. The movie provided chilling insight surrounding the inner workings of the high profile religion. Scientology itself has widely disputed the claims made by the film, and now has reportedly begun production its own documentary about Going Clear 's director.
According to The Hollywood Reporter, Rory Kennedy – an Oscar winner and colleague of Gibney's – alleges that a man recently approached her about the possibility of an interview regarding Gibney and his Emmy wins for Going Clear. She also claims that her husband, Mark Bailey, was approached separately by the same individual. The man reportedly identified himself as Joe Taglieri, and while he did not explicitly state to either Kennedy or Bailey that he represented Scientology, it later came out that he writes for Freedom – a Scientologist publication. The church itself claims to not have officially sanctioned any hostility towards the Going Clear director, but also asserts that they cannot control their actions of individual members in what they choose to do.
In Going Clear, Gibney interviews several people who claim that the church does indeed participate in behavior of this nature. Such alleged activities include harassment, wiretapping, and blackmail in order to discredit those who would speak against Scientology. A case is made during the film that such tactics were used in the marriage between Nicole Kidman and Tom Cruise because the church did not approve of their nuptials. The documentary also features former members of the church claiming that exploitations such as beatings, intimidation and imprisonment are not uncommon practices.
In terms of ability to produce a documentary, it would not be difficult for the church to do so if they so desired. They have the financial means, as well as a very strong following in Hollywood. Much of Gibney's documentary is predicated on the idea that celebrities such as John Travolta and Tom Cruise have, by not speaking out against the alleged abuses of the church, become complicit in the supposed crimes themselves. However, several of the people featured in the film suggest that part of the reason these giants don't speak out come as a result of the church using the aforementioned blackmail tactics to coerce their cooperation in the religion.
Officials from the church spoke out regarding their views towards Gibney over recent events:
It's an interesting situation to say the least. If the church were in fact producing a documentary about Gibney, we could likely expect to see it sometime soon.
Originally from Connecticut, Conner grew up in San Diego and graduated from Chapman University in 2014. He now lives in Los Angeles working in and around the entertainment industry and can mostly be found binging horror movies and chugging coffee.
Your Daily Blend of Entertainment News
Thank you for signing up to CinemaBlend. You will receive a verification email shortly.
There was a problem. Please refresh the page and try again.