Going Clear: Scientology And The Prison Of Belief Gets Its First Angry Trailer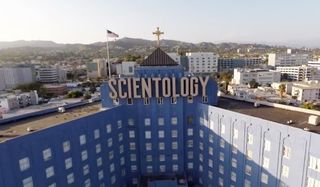 Going Clear: Scientology and the Prison of Belief is one the most controversial documentaries of recent memory, and definitely the most controversial of the year. Since debuting at the Sundance Film Festival, the film has been causing quite the raucous among Scientologists, and things will likely heat up even more. The first trailer for the doc has hit the web, and it's already taking some blows at the Church.
Though there's no real substantial footage of what's coming from the movie, the Going Clear trailer is filled with quotes from those interviewed in the documentary. Spoiler alert: they have nothing good to say about the Church of Scientology. "You just don't see it happening to you, you justify so much," said one interviewee. Another states, "It's so strong it sticks you like glue." If you've been keeping track of the controversy, though, you know this is just the tip of the iceberg.
Going Clear is helmed by Oscar-winning director Alex Gibney (Taxi to the Dark Side), and is based on the book of the same name by Lawrence Wright. That, in turn, was based on a New Yorker profile Wright wrote about filmmaker and former Scientologist Paul Haggis. Featuring accounts from defectors of the Church, Going Clear goes behind enemy lines, so to speak, of the controversial religious group (though, the trailer labels it a "cult.") Reports from those in attendance during the Sundance screening of the film have said that ome of the more heinous allegations slung at the Church involve Tom Cruise's divorce from Nicole Kidman. As reported by The Daily Beast, the information featured in Going Clear claims the Church was heavily involved in their split, even going as far as "re-educat[ing] Cruise's adopted children with Kidman, Connor and Isabella, into turning against their mother so that Cruise could retain custody."
Understandably, the Church is firing back. On their official website, FreedomMag.com, they launched a scathing retort against Going Clear that attempts to debunk the accusations lodged against them. (Interesting to note is that whenever you search "Alex Gibney" and "Going Clear" in Google, the first result is the Scientologist website. That's what you call search engine optimization, folks.) Among the response, the Church states that:
Going Clear is set to debut on Sunday, March 29, at 8 p.m. and you can bet there will be more outcry from the Church of Scientology after the public gets to see it in its entirety. Some journalists who have reported on the documentary have even said that the Church has reached out to them requesting that they report the other side of the story. In the meantime, HBO has said that they have a team dedicating to combing through the information and lawyers ready to pounce back. So… this should be interesting.
Your Daily Blend of Entertainment News