Going Clear Review: HBO's Scientology Shocks, Startles And Enthralls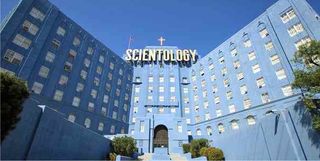 "We're going to find an incident in your life you have an exact record of. Then, by sending you through it at the time it happened, we're going to reduce it. We will reduce the pain. Go to the beginning of that incident. Tell me what's happening." These words, spoken by a faceless voice and layered over images of an E-meter, begin Alex Gibney's Going Clear: Scientology and the Prison of Belief, the most controversial documentary in recent memory. The "incident" is Scientology. The "pain" is what happened to those who endured the tyrannical iron fist of those leading the blind and hopeful flock. And by taking his interview subjects through these incidents, Gibney hopes to reduce the pain of their past.
Going Clear is based on a book by Lawrence Wright of a similar name. As one of the interview subjects of the doc, Wright said in the film, "My goal wasn't to write an expose. It was simply to understand Scientology, trying to understand what people get out of it." The aim of Going Clear, however, is far more combative, and yet justified in its pursuits. It's meant to inform the public of the atrocities perpetuated by the Church unto their followers in a more visceral way. Whether you've been actively protesting against the questionable actions of Scientologists, or you haven't read past news headlines, Going Clear is a powerful film that will enhance your outlook on what many call a cult.
Going Clear is by no means the first time we're hearing of hard-to-believe allegations lodged against Scientology, such as tax evasion, abuse of its followers, and intimidation of its critics. Those who've read Wright's book won't find much of anything new here. But the film does have one obvious though poignant difference: a visual human element. Through a series of interviews with Scientology defectors, we hear and see a well-constructed narrative of life in the Church, which ultimately serves to enhance the overall portraits of the Church's founder L. Ron Hubbard and his successor David Miscavige.
Appropriately, Going Clear begins with Paul Haggis. The former Scientologist and Oscar-winning filmmaker of Crash was famously profiled in 2011 for The New Yorker by Wright. This feature served as the basis for Wright's novel, which, as I mentioned, led to the doc. Much like the other interview subjects, Haggis was convinced of Scientology's success after reading a passage from Dianetics, which is essentially the Bible of the Church.
Paraphrasing, Haggis said it read, "Don't believe any of this. If it works for you, great. If it doesn't, discard it." Along with the promise of making anything in his life a possibility, he eagerly signed up with his wife and forked over $50 for the first class. Many reportedly experienced similar situations. Sylvia "Spanky" Taylor, a PR rep and longtime friend of John Travolta, stated that she heard of people acquiring "superpowers," and in the naivety of her youth decided she wanted the same.
Much like the varying levels of enlightenment to which a Scientologist can ascend in the Church, there are varying levels of interview subjects. The confessions of those like Spanky and Haggis invoke compassion, as we hear how their lives were torn apart by the Church. Then there are others, like Marty Rathbun -- formerly the second-highest ranking Church official under Miscavige's leadership -- whose testimonies serve to uncover the Church's more underhanded practices. One of the more egregious confessions is Rathbun's involvement in the divorce between Scientology's golden boy, Tom Cruise, and Nicole Kidman. Because Kidman's father was an active psychologist, a profession which the Church despised, she was considered a threat. After she reportedly tried to pressure Cruise into distancing himself from Miscavige, who served as the best man at Cruise's wedding, the Church leader took immediate action. Some of Rathbun's responsibilities, according to his interviews, included tapping Kidman's phones and "re-educating" her children to turn against her.
But in the end it all comes back to Hubbard and Miscavige. Much of Scientology is hard to digest, and that's because Hubbard himself is hard to digest. Through rare archival footage of the Church's founder, in addition to audio testimony from his former wife, Sara Northrup Hollister, we see his transformation from science-fiction author to a paranoid and harsh leader. Any one of us with even a half-baked knowledge of his borderline tyrannical rise knows his story, but, again, it's quite another thing to watch him through the rare interviews and photos used in Going Clear. It's possible you have heard the widely reported atrocities and rumors coming out from the Church, but now the group's actions seem even more sinister and detrimental then ever before, and that's thanks to Gibney's expert story telling methods.
To "go clear" in Scientology is to be rid of all engrams, which are painful emotions and traumas lying in our subconscious that influence our conscious state. For the documentary's ultimate purpose, it serves another meaning. After watching defectors tell the same stories and break down in tears over their own suffering and the suffering of their children and friends, it's hard not to grieve for them. And the evidence of Scientology leaders' heinous crimes are hard to ignore. After watching this film, it's no wonder the Church is taking such drastic steps in trying to silence these critics. By the time you finish watching Going Clear, you'll be left "clear" and hungry for justice.
Going Clear premieres on HBO on Sunday, March 29 at 8 p.m. ET. Find out more on HBO's site.
Your Daily Blend of Entertainment News
Your Daily Blend of Entertainment News
Thank you for signing up to CinemaBlend. You will receive a verification email shortly.
There was a problem. Please refresh the page and try again.