What Scientologists Actually Think Of Tom Cruise, According To Going Clear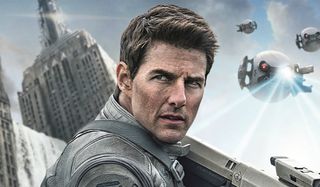 The Scientology documentary Going Clear: Scientology and the Prison of Belief has been making noise with its accusations slung at the Church. As we get closer to its premiere on HBO later this month, tensions are rising even higher. The latest stone thrown at the controversial religion comes from one of the doc's interview subjects, who revealed what Scientologists really think about their celebrity golden boy, Tom Cruise.
Journalist Tony Ortega, who is interviewed in Going Clear, recently revealed that some of the more hardcore members of the Church see Cruise, and their other celebrity spokespeople, as merely ornaments. As quoted by Yahoo Movies, Ortega said at a recent luncheon with the doc's filmmakers,
This isn't the first Cruise-related claim that Going Clear has lodged against the Church. Those who have already seen the film at its Sundance premiere reported that he plays a major part, specifically regarding allegations that the Church was highly involved in the actor's split from Nicole Kidman. According to Scientology defector Marty Rathbun, Scientologists turned Kidman's kids against her through re-education, and tapped her phones upon request from Cruise and a high-ranking Church official. Going Clear director Alex Gibney said that the reason the doc is spotlighting Cruise and celebrities in this manner is not to victimize them. He explained during the luncheon that celebrities like Cruise are given an enormous amount of power and influence, and with it comes a certain degree of responsibility.
As expected, the Church has been firing back. Since the film's premiere, it established a site called FreedomMag.org. Its main goal is to debunk every claim Going Clear lodges against them. In a lengthy statement on the site, the Church says that those featured in Gibney's film are known liars "whose living depends on the filing of false claims." The Church has even thrown a lot of money and effort into promoting their site through social media and SEO promotions. For instance, if you Google phrases like "Alex Gibney" or "Going Clear," Freedom Mag is the first search result that pops up. And that's not a coincidence.
Going Clear premieres on HBO on March 29.
Your Daily Blend of Entertainment News
Your Daily Blend of Entertainment News
Thank you for signing up to CinemaBlend. You will receive a verification email shortly.
There was a problem. Please refresh the page and try again.