Clint Eastwood Wants Leonardo DiCaprio To Star Opposite Beyonce In A Star Is Born Remake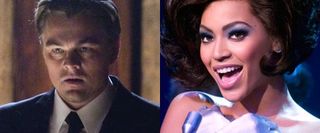 There have been talks of a remake of A Star is Born since the beginning of Hollywood-- almost literally. The film first made in 1937 with Janet Gaynor and Frederic March has been remade twice since then, and the latest round of rumors have had Russell Crowe quite possibly romancing Beyonce as a washed-up star who shepherds a young actress and musician to fame. When Clint Eastwood signed on to direct earlier this year the project seemed more real than ever, and now Eastwood might be wrangling one of his actor favorites to sweeten the deal for Warner Bros. to finally go ahead and get it made.
Deadline reports that Eastwood has been working to convince Leonardo DiCaprio, who's starring in Eastwood's next film J. Edgar, to play the older male role once filled by Crowe. It's unclear exactly how far along he is in convincing the actor, but if Deadline has gotten wind of it it's probably more than just some idle chatter between takes. DiCaprio is just 7 years older than Beyonce, not exactly the massive age difference that usually gives the story its power, but he's an actor capable of most anything, including the kind of aging-up we saw in The Aviator and presumably will revisit in J. Edgar.
Plus, the fact that they're not so far apart in age means that Eastwood might be bringing something slightly different to the classic story. All you really need to properly call yourself A Star is Born is have a relationship between an older, fading star and a younger, rising one-- at one point in the development of this new one, I thought they might be having the older star be female, which would be an even more imaginative twist. I'm a DiCaprio partisan, so anything he tries I'm immediately on board with, but this matchup with Beyonce seems especially intriguing. And yes, I say that fully well knowing that Eastwood's batting average lately-- Invictus, Hereafter, and yes, Gran Torino-- hasn't been up my alley. This project is already seeming inventive enough that it might bring new life out of the veteran director.
Staff Writer at CinemaBlend
Your Daily Blend of Entertainment News
Thank you for signing up to CinemaBlend. You will receive a verification email shortly.
There was a problem. Please refresh the page and try again.