Colin Farrell Won't Star In Arthur And Lancelot, But Project Moves Forward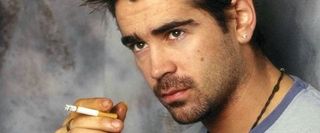 It was exciting news a few weeks back when Colin Farrell appeared ready to jump in as the star of Arthur and Lancelot, an action comedy take on the classic Arthurian legend that would see Farrell as a wisecracking Lancelot in the vein of the recent Sherlock Holmes. And Farrell was indeed looking in to taking on the role, but as so often happens, things fell apart in the scheduling stage. Deadline reports that Farrell has dropped out of the project as quickly as he joined it, and the studio is left looking for a new lead to get the movie made quickly.
This is the second time Arthur and Lancelot has made a casting change, and by far the least dramatic. Last December up and comers Joel Kinnaman and Kit Harrington were set to star in the film until Warner Bros. halted production, concerned that the $110 million project was too expense to have unknown leads. Casting Farrell-- and with the idea to bring on James McAvoy as Arthur and Gary Oldman as Merlin-- would have brought a little more starpower, and presumably that's still the route they'll take as they attempt to recast the role. McAvoy and Oldman never had deals, so don't expect them to stick around as well. But hey, it's a nice fresh start!
Despite all these hiccups, Arthur and Lancelot does sound promising, and I have to imagine there's some combination of known talent who can make the schedule work and help the movie find success. The biggest stumbling block, in fact, is still the director David Dobkin, who made one hit with Wedding Crashers, but also lent his name to The Change Up, Fred Claus and Shanghai Knights. Is Arthur and Lancelot going to mark an improvement from those? God let's hope so.
Staff Writer at CinemaBlend
Your Daily Blend of Entertainment News
Thank you for signing up to CinemaBlend. You will receive a verification email shortly.
There was a problem. Please refresh the page and try again.