Comic Con In Photos: Preview Night Madness!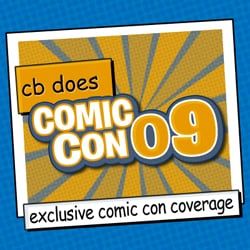 The doors have opened for Preview Night at San Diego Comic Con, and thousands of fans are getting their first look at the loot, memorabilia, and toys on display. It's already packed in there, of course-- packed like sea of human bodies packed, packed like you hope everyone remembered to wear deodorant today.
I jumped in and snapped some photos of the movie-related goings on, which included poster giveaways for District 9, a straw hut for Where the Wild Things Are, a giant replica of Bumblebee in both Autobot and Camaro form, and much much more. Check out all the images in the gallery below. The most important display on the floor, of course, is Black Beauty from The Green Hornet, which-- as you'll see-- is covered in a sheet as I write this. Expect that reveal to come in an hour or so.
Image 1 of 36
Image 2 of 36
Image 3 of 36
Image 4 of 36
Image 5 of 36
Image 6 of 36
Image 7 of 36
Image 8 of 36
Image 9 of 36
Image 10 of 36
Image 11 of 36
Image 12 of 36
Image 13 of 36
Image 14 of 36
Image 15 of 36
Image 16 of 36
Image 17 of 36
Image 18 of 36
Image 19 of 36
Image 20 of 36
Image 21 of 36
Image 22 of 36
Image 23 of 36
Image 24 of 36
Image 25 of 36
Image 26 of 36
Image 27 of 36
Image 28 of 36
Image 29 of 36
Image 30 of 36
Image 31 of 36
Image 32 of 36
Image 33 of 36
Image 34 of 36
Image 35 of 36
Image 36 of 36
Staff Writer at CinemaBlend