Comic-Con Saturday Schedule Highlights Include Marvel Studios, Hunger Games, Godzilla And More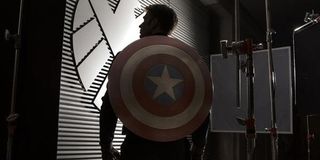 The entire programming schedule at San Diego Comic-Con is packed with cool panels and general geekiness, but it's really the Saturday schedule that usually stands tall as the best day of the festivities. Last year in the San Diego Convention Center's famous Hall H, audiences were treated with more than a handful of great surprises on Saturday, including the reveal of a Godzilla teaser trailer, test footage for Edgar Wright's Ant-Man, and the official announcement of Guardians of the Galaxy - not to mention fantastic footage from films like Iron Man 3, The Hobbit: An Unexpected Journey, Pacific Rim and Man of Steel. We can expect that they're will be even more surprises this year, but for now we know exactly what is confirmed to happen.
The programming schedule for this year's Comic-Con has been rolling out over the last two days, and this afternoon the organization's official website posted the full schedule of events for Saturday, July 20th. As we learned earlier this week, Marvel Studios is back as the closing act of the night, and will be bringing both Alan Taylor's Thor: The Dark World and Anthony and Joe Russo's Captain America: The Winter Soldier. Other big highlights include the Warner Bros./Legendary Panel, which will include previews of Godzilla, Gravity, The Lego Movie, and Seventh Son, as well as Lionsgate and Twentieth Century Fox presentations, which will feature movies like The Hunger Games: Catching Fire and X-Men:Days of Future Past.
Check out the full schedule of movie panels below and then check out the Thursday and Friday schedules. Be sure to come back from Jul 18 to the 21st for all of our extensive coverage!
Saturday, July 20
10:45am
Warner Bros. Pictures and Legendary Pictures Preview Their Upcoming Lineups
Legendary Pictures: Godzilla -- An epic rebirth to Toho's iconic Godzilla, this spectacular adventure pits the world's most famous monster against malevolent creatures who, bolstered by humanity's scientific arrogance, threaten our very existence. Gareth Edwards directs Godzilla, which stars Aaron Taylor-Johnson, Ken Watanabe, Elizabeth Olsen, and Juliette Binoche, with David Strathairn and Bryan Cranston. The screenplay is by Max Borenstein, Frank Darabont, and Dave Callaham. Thomas Tull and Jon Jashni are producing with Mary Parent and Brian Rogers. Alex Garcia and Patricia Whitcher are the executive producers, alongside Yoshimitsu Banno and Kenji Okuhira. The film is from Warner Bros. Pictures and Legendary Pictures.
Legendary Pictures: Seventh Son -- The fantasy action adventure Seventh Son takes audiences to a time long past, where evil is about to be unleashed. Jeff Bridges stars as Master Gregory, a Falcon Knight who imprisoned the malevolently powerful witch Mother Malkin (Julianne Moore) years ago. Now escaped, she seeks vengeance, and Gregory has only until the next blood moon to train a new apprentice (Ben Barnes), the seventh son of a seventh son, to fight a dark magic unlike any other. Oscar nominee Sergei Bodrov directs an international cast that includes Alicia Vikander, Kit Harington, Olivia Williams, Antje Traue, and Djimon Hounsou. The film is from Warner Bros. Pictures and Legendary Pictures.
Warner Bros. Pictures: 300: Rise of an Empire -- From producer Zack Snyder, Warner Bros. Pictures and Legendary Pictures present a new chapter in this epic saga, based on Frank Miller's graphic novel Xerxes and told in the same breathtaking visual style as the blockbuster 300. Directed by Noam Murro, 300: Rise of an Empire takes the action to a fresh battlefield-on the sea-with a cast of both new and returning stars, led by Sullivan Stapleton, Eva Green, Lena Headey, Hans Matheson, David Wenham, and Rodrigo Santoro. Gianni Nunnari, Mark Canton, Zack Snyder, Deborah Snyder, and Bernie Goldmann produce, with Zack Snyder and Kurt Johnstad again collaborating on the screenplay.
Warner Bros. Pictures: Gravity -- From director Alfonso Cuarón comes the sci-fi Thriller Gravity, starring Sandra Bullock and George Clooney. Dr. Ryan Stone (Bullock) is a brilliant medical engineer on her first shuttle mission, alongside veteran astronaut Matt Kowalsky (Clooney). On a seemingly routine spacewalk, disaster strikes, leaving them completely alone-tethered to nothing but each other and spiraling out into the blackness. The deafening silence tells them they have lost any link to Earth...and any chance for rescue. As fear turns to panic, every gulp of air eats away at what little oxygen is left. But the only way home may be to go further into the terrifying expanse of space.
Warner Bros. Pictures: The LEGO Movie -- From directors Phil Lord and Christopher Miller of 21 Jump Street comes the first ever full-length theatrical LEGO adventure, The LEGO Movie, about a perfectly average LEGO minifigure named Emmet who is mistakenly identified as the most extraordinary person and the key to saving the world. He is drafted into a fellowship of strangers on an epic quest to stop an evil tyrant, a journey for which he is hopelessly and hilariously underprepared. The original 3D computer animated story stars Chris Pratt, Will Ferrell, Elizabeth Banks, Will Arnett, Nick Offerman, and Alison Brie, with Liam Neeson and Morgan Freeman.
Saturday July 20, 2013 10:45am - 1:15pm
Hall H
1:35pm
Lionsgate - Featuring I, Frankenstein and The Hunger Games: Catching Fire
I, Frankenstein stars Aaron Eckhart and Yvonne Strahovski appear with film director/writer Stuart Beattie and graphic novel author/writer Kevin Grevioux. Plus, the cast of the highly anticipated second installment of The Hunger Games: Catching Fire comes to Hall H for the first time. Panel moderated by Fandango chief correspondent Dave Karger. Never-before-seen footage is showcased from both films. Includes Q&A opportunity.
Saturday July 20, 2013 1:35pm - 2:35pm
Hall H
2:55pm
Entertainment Weekly's Women Who Kick Ass
Fierce, fearless and flat-out fantastic, these female actors have left fans breathless. Michelle Rodriguez (Fast and Furious franchise), Orphan Black's Tatiana Maslany, Danai Gurira (The Walking Dead), and others open up about the power and privilege of playing women who redefine the rules and refuse to yield.
Saturday July 20, 2013 2:55pm - 3:55pm
Hall H
4:15pm
20th Century Fox
TBA
Saturday July 20, 2013 4:15pm - 5:45pm
Hall H
4:15pm
Warner Bros. and DC Entertainment: Superman's 75th Anniversary Celebration
As the most recognizable superhero in the world, Superman has flown high in film, TV, radio, animation and, of course, comics for 75 glorious years. Join a star-studded panel, including cast, filmmakers, artists and writers from Superman's illustrious history-from Jack Larson (the original Jimmy Olsen from Adventures of Superman) and first-time Comic-Con panelist Tim Daly (Superman: The Animated Series) and reigning animated Supergirl Molly Quinn (Castle), to comics luminaries Paul Levitz, Grant Morrison, and Dan Jurgens, plus talent from the current blockbuster, Man of Steel -- as they reminisce and discuss the beloved character's many personifications, impressive history, and ongoing relevance within society and entertainment. And courtesy of Mattel and Warner Bros. Consumer Products, all fans attending the panel will receive a special Superman Quick Shots figure!
Saturday July 20, 2013 4:15pm - 5:15pm
Room 6A
6:00pm
Marvel Studios: Thor: The Dark World and Captain America: The Winter Soldier
Marvel Studios president and producer Kevin Feige and many surprise guests provide an inside look at the ever-expanding Marvel cinematic universe.
Saturday July 20, 2013 6:00pm - 7:00pm
Hall H
8:00pm
Hall H and Ballroom 20 Saturday Panel Playback
Didn't get into either Hall H or Ballroom 20 today? We feel your pain! Do you like stuff? Of course you do! Then join the assistant to the director of programming for Comic-Con international Tommy Goldbach in this 3-hour block in which Comic-Con will rebroadcast some of the day's popular panels from those two giant rooms. Best of all, those in attendance will get to vote in a show of applause on what they want to see. It's democracy at its finest and it's a second chance to see these panels. (Please note: these playbacks will include only the panel discussions. None of the film clips or footage shown at the live events will be shown here.)
Saturday July 20, 2013 8:00pm - 11:00pm
Room 25ABC
Your Daily Blend of Entertainment News
Assistant Managing Editor
NJ native who calls LA home and lives in a Dreamatorium. A decade-plus CinemaBlend veteran who is endlessly enthusiastic about the career he's dreamt of since seventh grade.