Comic Con: Zack And Miri Make A Porno Panel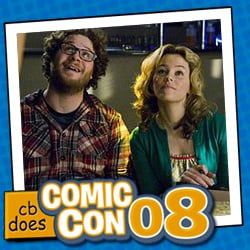 Kevin Smith's upcoming film Zack and Miri Make a Porno has been making news for the past few weeks due to its MPAA problems. Smith gave Comic-Con audiences a chance to see what all the fuss was about with his Zack and Miri panel, strategically placed in the Con's evening hours, which included a clip from the movie and appearances from a large part of the movie's cast.
Smith introduces the clip with a reminder not to record what he's about to show. The clip begins to roll and it starts with 2-3 minutes of Monty Python style text cards reiterating that fans shouldn't record the clip that's about to be shown, reminiscing about last year's heckler, and basically acting as a hilarious warm up act to the actual clip (which, to credit Smith's fans, I haven't seen making the rounds in bootleg form… yet).
The clip shown features an appearance by Justin Long, who Smith worked with on Live Free and Die Hard. It takes place at a class reunion for Zack and Miri, where the title characters have split up - Miri has gone off to flirt (and hopefully seduce) an old high school flame and Zack has gone to the bar to get hopelessly drunk. At the bar he meets Brandon (Justin Long), who didn't go to their school but is dating someone who did - the same guy Miri is trying to seduce. Oh, he also makes gay porn, which is what ultimately plants the idea in Zack's head to make a porno). As the four characters come together we get a terrific blend of awkward humor as Miri realizes the guy she's hitting on is gay, and crude humor as Zack pushes Brandon to talk about his movies (including the gem, "You Better Shut Your Mouth or I'm Going To Fuck It").
Smith could easily take up an hour talking with the audience, but he didn't come alone for the panel. He brings out his producer friend Scott Mosier, supporting cast members Ricky Mabe, Justin Long, Katie Morgan, Traci Lords, Jason Mewes, and the leads Seth Rogen and Elizabeth Banks. He then opens up the floor for questions from the audience.
Honestly, the whole Zack and Miri panel should have been videotaped and tossed onto another one of Smith's An Evening With… videos, because the whole thing was comedic gold. Here are some of the highlights:
Elizabeth Banks thought Zack and Miri was a sweet, adorable story and she cried at the end. Smith interrupted, telling her not to tell people that or nobody would come see the movie. Banks corrected herself, telling people it has lots of, "fucking and shit." (Hearing the angelic-faced Elizabeth Banks curse may go down as one of the most traumatizing moments in my life… another image destroyed for all time).


Justin Long talked about the clip shown and the kiss he shared with Brandon Routh, who plays his boyfriend (and the guy Miri is flirting with). Apparently Long was ill with a fever of 102 the whole time he was on set, and his kiss made Routh, who is typically the embodiment of health, incredibly sick.


Long came up with the title, "You Better Shut Your Mouth or I'm Going To Fuck It" as an ad lib. It became a running gag for the evening.


Smith has released some of his tyrannical hold over his script, allowing actors to improvise a little bit (as evidenced by Long's title). He said that the change started around the time of Dogma when he got actors like Chris Rock and Alan Rickman on board. He wasn't about to tell Rickman how to act or Rock what was funny, so he loosened up a bit.


Smith talked a bit about the ratings problem he's facing with the MPAA. The movie has received an NC-17 rating, which he had to accept in order to appeal. Now he'll watch the movie with a group of people and defend his choices. Smith said he's contractually obligated to deliver an R rating, so there won't be any standoff of Smith calling out, "fuck the MPAA." That said, we hope he can convince the MPAA to cut the rating down to an R without him having to touch the film anymore.


Questions for the entire cast weren't Scott Mosier's thing. People would ask something about acting or working with Kevin and Mosier would just reply, "I'm not an actor." Later, when someone asked Mosier a specific question (about how it felt to sign all of the checks), Mosier's response was simple: "It's kind of like acting…"


For people who listen to the Smodcast, Mosier's camper is gone.


Someone asked about Traci Lords' background in pornography, and how her career had affected the industry when it was revealed that she was underage for all but one of her flicks. Smith, unaware of the history of Lords' career, rocked the panel with the line that most are calling the best quote of the con: "You're the Miley Cyrus of porn!


Someone asked Rogen if this was a risky move with his newfound mainstream success, making a movie about a porno. Rogen's response was that he exclusively made movies to drag his career down. If you think about it in mainstream ways, he's kind of right (stoner stockroom guy, stoner guy who gets a woman pregnant, etc), but damn if he isn't funny in those roles.


Smith said he had no plans to return to Jay and Silent Bob and that he kind of felt that part of his career was over with. He also said the one line he would never cross was depicting rape on screen. All of that said, if his career slows down you could see Jay Rapes Silent Bob as early as 2010.


Kevin said his upcoming projects include Red State, his horror movie which still doesn't have a home, and after that something set in space that will really push his skills as a director. He jokingly added he'd like to do a courtroom drama musical some day. He briefly touched on Batman: Cacophany, his recently announced comic book.


For those in the Zach Braff set, Banks has talked to the Scrubs people about appearing in the next season, but nothing conclusive has come through yet. Someone also asked her about her work on W and she said playing Laura Bush was rad and that the only difference from making Porno was the hair (Rogen added: she wouldn't even have to change the character name).
Your Daily Blend of Entertainment News