Conan The Barbarian Character Posters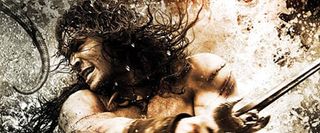 Having never really seen Jason Momoa act before, I was a little skeptical when they announced he'd be stepping into the role of the beloved Conan the Barbarian. He has the look, but there wasn't much else to go on. But now that he's graced the small screen as Khal Drogo in HBO's Game of Thrones it's pretty safe to say that Jason Momoa is one bad muther effer and that the role of Conan is safe in his hands.
Today Lionsgate has sprinkled some fresh new character posters from the film around the web to whet you appetite for slaying and graphic violence. The Conan (Momoa, MTV), Corin (Ron Perlman, Coming Soon), Tamara (Rachel Nichols, JoBlo), and Marique (Rose McGowan,
[[ ahref http blogs first_look_rose_mcgowan_in_conan_puzqihb907obhebff9kdrk p popwrap www.nypost.com ]] NYP) posters all look great, and coming from a guy who generally hates character posters, that is saying something. The colors and saturation combined with the imagery of dirt and blood spatter all play nicely to create controlled chaos which is exactly what we should be hoping for out of Conan when it's released August 19th.
Check out the posters below or click each to see them embiggened on their respective websites.
Your Daily Blend of Entertainment News