Conan The Barbarian Sequel Will Bring Back 4 Characters, Including Arnold's Hero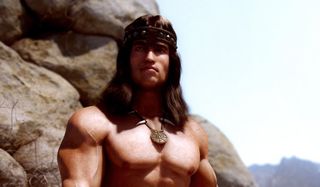 Fans of Arnold Schwarzenegger are preparing for the action icon's franchise return with Terminator Genisys in a little over a month. However, the aging Austrian ass-kicker has another old-school homecoming in the works with The Legend of Conan. According to a writer/producer working on the long-belated sequel, the film will actually feature as many as three returning characters from the original film!
In an interview with the Schwarzenegger-centric site, TheArnoldFans, Chris Morgan, a co-writer and co-producer on the upcoming follow-up film describes a dark direction that looks to tonally emulate the unforgiving savagery of John Milius' original 1982 Conan the Barbarian. In fact, he even goes so far as to hint the presence of at least three familiar characters from that groundbreaking film. As Morgan reveals:
Morgan's candor would not extend to the identity of said characters or if their original actors would even return to reprise their roles. However, the field could be narrowed down to a number of key players and memorable scene-stealers. An obvious candidate would be Subotai (Gerry Lopez), a thief/archer who became Conan's regular running buddy in his crimson quest for vengeance. Plus there were other memorable players such as Red Hair (Luis Barboo) and the Pictish Scout (Franco Columbu). Also, noteworthy is Conan's companion, The Wizard (Mako) who would chronicle the wayward warrior's adventures as the narrator of the films.
However, there are more provocatively memorable choices such as the sinister seductress known simply as "The Witch" whom Conan interrogates for information via mutual use of his "other sword" -- an experience that ends with her demonic transformation, resulting in Conan (almost hilariously) tossing her into a nearby fire. However, her spirit is seen leaving her body afterwards, possibly hinting a retribution-seeking return. Plus, speaking of Conan's dead lovers, we already saw the slain Veleria (Sandahl Bergman) make a brief post-mortem return to save Conan from a fatal blow during battle. She could easily see another return as a Valkyrie still watching over the aged Conan's shoulders from the heavens.
Regardless of who we'll be seeing and in what capacity, it does seem clear that The Legend of Conan is looking to directly channel the mythology of Milius' original 1982 film and possibly Richard Fleisher's 1985 sequel, Conan The Destroyer, while putting aside the shameful stain that was the 2011 boondoggle of a reboot film starring Jason Momoa. However, the epilogue of the 1982 movie delivered by The Wizard makes it clear that in his more advanced years, Conan will become a King "by his own hand." This film will clearly be the long-awaited realization of that narrative nugget.
Emphasizing the mandate to continue the essence of the original film, producer Fredrik Malmberg also chimes into TheArnoldFans piece revealing that the studio ordered a film that would be a "worthy successor" to the 1982 Milius film, which, of course, was unapologetic in its brutality in a way that could stand out in today's film market. Thus, this continuation of the Conan saga could prove to be an intriguing addition to the 67 year-old Schwarzenegger's rather spotty post-gubernatorial cinematic comeback queue.
While nothing has been set regarding a release window for The Legend of Conan, filming could begin at some point after Arnold Schwarzenegger finishes his publicity commitments for Terminator Genisys, which hits theaters on July 1. Thus, the cameras could be rolling on Conan as soon as this fall.
Your Daily Blend of Entertainment News
Your Daily Blend of Entertainment News
Thank you for signing up to CinemaBlend. You will receive a verification email shortly.
There was a problem. Please refresh the page and try again.