Concept Art From Scorsese's Shutter Island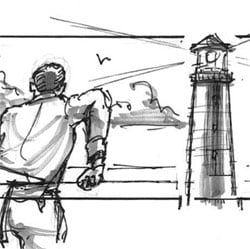 Martin Scorsese's next movie is Shutter Island and even though it's already in post, we still don't know much about it. Leonardo DiCaprio, Mark Ruffalo, Ben Kingsley, Emily Mortimer, Michelle Williams, Max Von Sydow, and recently Rorschach Jackie Earle Haley are in it. The thing plot synopsis which has been floated around for it says it has something to do with US Marshall's looking for a lunatic on a remote place called Shutter Island.
Well now add to that a lighthouse. That's one of the things revealed in storyboards from the film posted by artists Karl Shelfelman. He's posted his concept art for the film, which he drew back when it was still called Ashecliffe on his official site. The storyboards are all fairly action oriented, with shots of a character named Teddy diving over the camera, running towards the aforementioned lighthouse, and swimming underwater where he sees a little girl sinking to the bottom.
To your right is a sample, but see all of Shefelman's Shutter Island storyboard work by going here and looking for the images marked "Ashecliffe".
Thanks to CB reader "Friends of Eddie" for the tip.
Your Daily Blend of Entertainment News