The Conjuring Spinoff Annabelle Secures A Release Date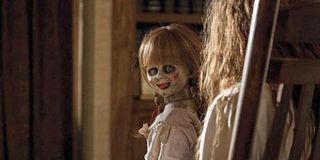 The common thought regarding horror movie franchises is to strike while the iron's hot, and spill out a cheap installment every year. That's the practice that was picked up by Saw, and later Paranormal Activity and now The Purge. But none of those films were as well-received as The Conjuring, which is not only receiving a sequel, but also a spinoff revolving around the creepy little doll Annabelle.
Annabelle now has a release date, and while The Conjuring was a summertime hit, Annabelle is taking on the Halloween season with an October 3rd date. The movie stars Annabelle (yikes!) Wallis and Alfre Woodard, and is based on a script by Gary Dauberman, who did uncredited re-writes on Final Destination 5 and the recent A Nightmare On Elm Street. Director John Leonetti has previously served as The Conjuring filmmaker James Wan's D.P., but as a director, he has two delightfully unexpected sequel credits to his name: the direct-to-DVD The Butterfly Effect 2 and the beyond-hilarious Mortal Kombat: Annihilation. Oh John Leonetti, the internet doesn't forget these things.
Annabelle's story isn't really told in The Conjuring, and the doll is merely the fanciest of a considerable supernatural trophy room. But the real life tale involving the doll concerns a dead seven year old with the name whose spirit latched onto the inanimate toy. The Warrens later exorcised the demons involved in the case, but given that the characters played by Patrick Wilson and Vera Farmiga aren't going to show up outside of the Conjuring franchise, it looks like we're probably getting an origin story about the dead girl and the subsequent haunting.
Releasing a horror movie in October is usually a pretty aggressive stance, since they could play all month and be the top attraction for teens on Halloween weekend. In previously years, October has gone lighter on horror films, if only because studios wanted to avoid cannibalizing each other. That changes this year, as Annabelle becomes the first out of the gate in a crowded field that includes Dracula Untold , Paranormal Activity 5 (technically the sixth film following The Marked Ones) and Universal's found-footage Hasbro team-up Ouija. And that's not counting ABC's Of Death 2, which will probably get a much smaller release with a VOD platform. Annabelle opens against the Reese Witherspoon drama The Good Lie as well as the highly-anticipated David Fincher thriller Gone Girl (which released its latest trailer earlier today). This release date announcement likely means we're bound to see a trailer very soon, so stay tuned.
Your Daily Blend of Entertainment News