Could Joaquin Phoenix Star In Spike Jonze And Charlie Kaufman's New Film?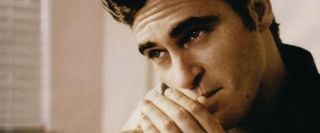 We learned back in March that Spike Jonze and Charlie Kaufman, a director and writer who just work better when they're together, had found funding for their next project together thanks to Megan Ellison, the heiress who's using her wealth to save the movie industry by funding projects by people like Paul Thomas Anderson, Kathryn Bigelow, and these guys. Now a major studio and a star have gotten in on the party to make it all seem more real and fantastic. Twitch Film is hearing that Warner Bros. has come on board the project, and Joaquin Phoenix is "attached" to star.
The plot description we heard last says the story is about powerful people who "gather to figure out all the seismic events that will take place in the worlds, from oil prices to wars that will be waged." Presumably, since this will be a film by the guys who brought you Being John Malkovich and Adaptation, it gets a lot more complicated from there. It's no surprise to hear that a studio, even one usually not focused on indie fare like Warner Bros., would want to get on board a project like this. I was thrown a little, though, to see Joaquin Phoenix's name in there. Since his bearded-up I'm Still Here days he has been working hard to shake that bad reputation, and snagged a key role in Paul Thomas Anderson's next film, which sure can't hurt. But I've never really thought of him as a comedy guy, and definitely not the kind of dry, anything-is-possible comedy that Charlie Kaufman usually specializes in. Maybe this is him trying, even more so than in I'm Still Here, to prove exactly how much range he's got?
Twitch says they're aiming to start shooting in March of next year, giving them plenty of time to settle in the rest of the cast and maybe give us a few more tidbits of what we can actually expect from the story. Then again, with Jonze and Kaufman, usually it really is just best to be surprised.
Your Daily Blend of Entertainment News
Staff Writer at CinemaBlend