Crimson Peak Drastically Affected Jessica Chastain In More Ways Than One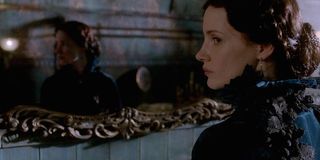 We've seen Jessica Chastain take on a cavalcade of intense and demanding roles throughout her career, but none has had as much of an effect as her role in Guillermo del Toro's Crimson Peak. Apparently Lady Lucille Sharpe has rarely ever had a good day in her life, and that showed in Chastain's masterful performance... but it came at a cost.
While attending the recent press conferences held in New York, with the cast and director of Crimson Peak (opens in new tab) in attendance, I was able to learn that The Martian actor had gone into the film constantly being told by friends that playing the villain was one of the best experiences that an actor could ever engage in. This was not so in the case of the extremely cold and restrictive Lady Lucille, the uptight sister to Tom Hiddleston's Sir Thomas Sharpe. But just how hard did Lucille's demeanor hit Jessica Chastain? In her own words, this is was the ultimate toll of the Crimson Peak experience:
In addition to becoming an imposing figure of foreboding doom and control, Chastain had to keep many plates spinning in the air to give Lucille the full actor's treatment. Not only did she have to work with a dialect coach to maintain her English accent, which was a bit of a challenge, considering she was filming her role in A Most Violent Year at the same time, but she also had to learn how to play the piano. Learning the piano is, by itself, a daring task; but Chastain wasn't learning how to play "Chopsticks" or "Happy Birthday." Instead, she had to learn pieces from the works of classical composer Fredric Chopin. If you're curious how much of a chore that must have been, take a listen to one of his pieces in the video below and see for yourself:
As for getting into the character's psyche, Chastain had no problem locking that down quickly, as she had some excellent sources of inspiration in her quest to become her most evil self. For starters, she told us that she decorated her trailer with the most depressing and Gothic imagery she could find, which helped re-acclimate to the dreary atmosphere that the film's Allerdale Hall projects. So the moment that she would come back from filming in New York, she would be able to get back into the groove of things on set. Film wise, Chastain used a holy trinity of crazy performances as the fuel to Lady Lucille's fire of madness. Drawing from Misery, Rebecca, and What Ever Happened To Baby Jane?, you can start to see the formation of a character that Jessica Chastain loved to play, but is glad to be finished with.
You can tell that those films served her well, as she exudes both the calm air of depression that Lucille inflicts on all around her, as well as the off-the-rails behavior she eventually exhibits later on in Crimson Peak's dramatic third act. This stew of Gothic villainy drained Chastain to the point where once it was over, she needed more of a break than she thought. Which of course begs the question, would she ever do it again? Despite the intense experience of playing Lady Lucille really getting to her, her answer was very promising:
While she's definitely got the more positive aspect down with her current work on The Zookeeper's Wife, as well as the recently successful blockbuster, The Martian, it's good to know that she would still consider playing the villain again. Let this be a note to the writers and producers of Bond 25: while Jessica Chastain is ready to take your calls, just make sure she gets to have fun while threatening the world.
Crimson Peak hits theaters this Friday, in Conventional and IMAX presentations.
Senior Movies Contributor
CinemaBlend's James Bond (expert). Also versed in Large Scale Aggressors, time travel, and Guillermo del Toro. He fights for The User.
Your Daily Blend of Entertainment News
Thank you for signing up to CinemaBlend. You will receive a verification email shortly.
There was a problem. Please refresh the page and try again.