Dakota Fanning Cast As Kevin Kline's Girlfriend In The Last Of Robin Hood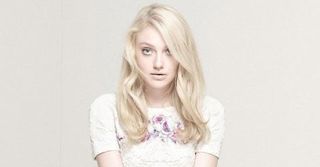 Yes. You read that correctly. 18-year-old ingénue Dakota Fanning will be playing the girlfriend to 65-year-old Kevin Kline in the upcoming drama The Last Of Robin Hood. Even as someone who crushed on Kline in middle school over French Kiss, this headline gave me pause. But would it make you feel better to know this isn't some sort of hint toward the age gap between romantic leads growing exponentially? Instead, this shocking May-December match-up has been made because the movie is based on a true story.
As we reported last fall, The Last Of Robin Hood is a biopic about famous film swashbuckler Errol Flynn, best know for the 1938 action epic The Adventures of Robin Hood. Kline will star as Flynn, who at 48 began pursuing a 15-year-old actress Beverly Aadland with the complete blessing of her stage mom Florence Aadland. Susan Sarandon will play Florence, and Deadline reports Fanning has signed on to play Beverly, whose love affair with the early Hollywood icon ended when he died at age 50.
Flynn's is a story full of scandal including statutory rape charges, his spurned wife Patrice Wymore, and his wish to star opposite Aadland in Stanley Kubrick's Lolita. However, produced by Killer Films and written and directed by Richard Glatzer and Wash Westmoreland, I suspect The Last Of Robin Hood will attempt to find the humanity in the controversial love that lies behind these salacious details.
For one thing, Glatzer and Westmoreland forged their reputation with the 2006 indie drama Quinceañera, which dealt with teen pregnancy in a sympathetic light. And Killer Films often engages in sensational-seeming material, but tackles these taboo topics in an exploratory way. Just consider films like Boys Don't Cry, The Notorious Betty Page, and Hedwig and the Angry Inch. In short, this will likely be more Venus than E! True Hollywood Story.
The Last Of Robin Hood is looking to roll into production next month.
Staff writer at CinemaBlend.
Your Daily Blend of Entertainment News
Thank you for signing up to CinemaBlend. You will receive a verification email shortly.
There was a problem. Please refresh the page and try again.