Dan Aykroyd Asks Bill Murray To Stop Being A Jerk About Ghostbusters 3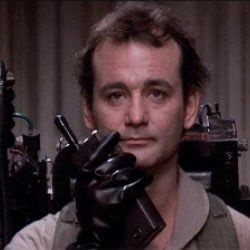 Despite constant rumors to the contrary, there's still been no progress on getting a Ghostbusters 3 actually made, with directors shuffling in and out and the script getting rewritten and, oh yeah, the original Ghostbusters balking at every turn. While Dan Aykroyd and Harold Ramis always seem happy to suit up for another go-round, the sticking point has always been Bill Murray, a guy who has been more of a professional pain in the ass than an actor for the last decade. (Hey, more power to him. He's earned the right to ignore us)
Now gossip of Murray's stubbornness has reached so far as a segment on the Howard Stern show. As recapped by Bloody Disgusting, National Enquirer gossip columnist Mike Walker visited Howard Stern and updated him on the behind-the-scenes drama of Ghostbusters 3:
Personally if Dan Aykroyd called me up, I'd do whatever he asked, but I understand that's not how Murray's mind operates. Since he's apparently gotten his wish to appear only as a ghost in the film, it's hard to imagine what the hold up is except Murray just dreading the inevitable. Given that we don't even know who will play the new generation of 'busters, I don't think Murray is the only thing holding the movie up.
Staff Writer at CinemaBlend
Your Daily Blend of Entertainment News
Thank you for signing up to CinemaBlend. You will receive a verification email shortly.
There was a problem. Please refresh the page and try again.