Dane DeHaan Revealed As A Hipper Harry Osborn In Amazing Spider-Man 2 Image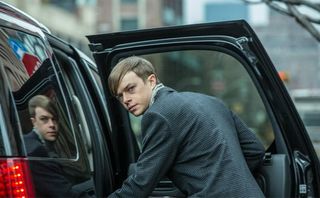 We've been paying close attention to the photos from the set of The Amazing Spider-Man 2 that reveal Jamie Foxx in costume as Electro, especially since they seem to suggest the character is fusing somehow with an eel. But now we've gotten a look at another of the film's potential villain, with Dane DeHaan himself tweeting our first look at Harry Osborn, which you see above.
The look is everything we expected, and not just because Harry looks pretty much like Dane DeHaan with very carefully controlled hair. He's stepping into the kind of black SUV every New Yorker has seen parked outside a fancy establishment, waiting for rich kids just like Harry to slip into the back. He's wearing a suit, as you'd expect for a rich college boy, but it's got a checked pattern that suggests he's not your average prepster, something that will probably help him fit in with Andrew Garfield's version of Peter Parker, who's a bit hipper than Tobey Maguire's take on the character.
Does this image tell us much about the film? Not really. But we've been over the moon about DeHaan's presence in the film since he was first cast, and that excitement has only built after seeing him kill it in films like Sundance's Kill Your Darlings and the recent The Place Beyond The Pines. The Amazing Spider-Man 2 has set up an incredible cast, but even with Paul Giamatti and Jamie Foxx playing elaborate villains, it's DeHaan I'm most excited to see turn dark.
The Amazing Spider-Man 2 opens May 2.
Your Daily Blend of Entertainment News
Staff Writer at CinemaBlend