The Dark Knight Rises Has Already Made $25 Million In Pre-Sales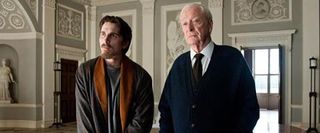 Despite slightly more mixed reviews than its predecessor (86% on Rotten Tomatoes vs. 94% for The Dark Knight), there's pretty much no doubt that most people are going to dig The Dark Knight Rises when it opens this weekend. After all, it's better than 95% of expensive blockbusters that open in the summer, and if you've loved the previous two Batman films directed by Christopher Nolan, there's no chance you're not going to tune in to catch the grand finale.
But what we still don't know is just how big the movie will be, and more importantly, if it will be a big enough phenomenon to unseat the undisputed champion of the summer so far, The Avengers. That movie set records back in May by opening with $207 million in a single weekend, boosted by 3D ticket prices, a bright tone that accommodated kids, and a run-up of other movies starring the characters that guaranteed everyone knew who they were. But The Dark Knight once held the record for the biggest opening weekend ever, and you shouldn't count out its sequel just yet. According to Deadline The Dark Knight Rises has already made $25 in pre-sales, and according to what MovieTickets.com told them, 78% of the people surveyed said they would see it opening weekend. Then again, 85% of tickets sold at Fandango are for TDKR, while 95% went to Avengers before it opened.
The Dark Knight Rises will have the advantage of a wider release, though-- it's opening on the second-largest number of screens ever. And the projections at Deadline go up as high as $195 million. We'll be writing later today about our own predictions for The Dark Knight Rises this weekend, but in the meantime, let us know if you're part of that $25 million in pre-sales, and especially if you'll be rushing to see it at midnight tonight.
Staff Writer at CinemaBlend
Your Daily Blend of Entertainment News
Thank you for signing up to CinemaBlend. You will receive a verification email shortly.
There was a problem. Please refresh the page and try again.