Darren Aronofsky Asked Joel Schumacher For Advice When He Was Making Batman: Year One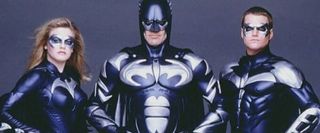 Even though Joel Schumacher became famous for making the silly, garish, nipples-on-the-batsuit Batman & Robin, it's easy to forget that was the second Batman film he made for Warner Bros., after taking over the franchise from Tim Burton and making 1995's Batman Forever. And when it came time for the studio to make another Batman movie without Schumacher as it turns out, he had a hand in that too, though not in any movie we ever saw. Before Christopher Nolan took over with Batman Begins the studio was figuring out a lot of ways to move on with Batman, and at one point had Darren Aronofsky working on an adaptation called Batman: Year One. At some point during that development back in 2001, Aronofsky turned to the person he knew who'd made a Batman movie and asked for some advice. Here's how Schumacher told it to me today:
When Schumacher says it was "my goal to get a family friendly movie," he of course means it was the studio's goal. According to Schumacher the studio fielded many, many complaints about Batman Returns, to the point that he had to travel to some foreign exhibitors and convince them to show Batman Forever. That's a movie Schumacher clearly feels proud of-- he calls it "a really young, sexy movie, which was probably the most inexpensive of all the Batman movies, and it just took off as a surprise to everyone." But with Batman & Robin, he admits, "I failed," though he argues that there were a lot of external factors that made that failure inevitable.
It's clear that Schumacher has spent 15 years answering for Batman & Robin, even when, as he's said in other interviews, he wanted to make a darker film inspired by Frank Miller's The Dark Knight Returns. And the films he's made since then have been considerably darker indeed, from the thriller 8 MM with Nic Cage to the micro-scaled indie Tigerland that introduced Colin Farrell to the world, to even the upcoming Trespass, which was the occasion for our interview. I'll have much more about the film and lots, lots more about Schumacher's career when I post the full interview later on-- say what you will about his films, but the man is a fascinating and incredibly gracious person to interview. And apparently, a font of wisdom for Darren Aronofsky in times of need. Who knew?
Staff Writer at CinemaBlend
Your Daily Blend of Entertainment News
Thank you for signing up to CinemaBlend. You will receive a verification email shortly.
There was a problem. Please refresh the page and try again.