De Palma Revisits Untouchables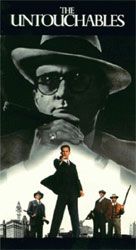 Well on his way to complete irrelevancy after a string mediocre to maddeningly terrible flops, director Brian De Palma is backpedaling and revisiting himself.
Production Weekly says the Scarface and Mission to Mars (how's that for a pair of polar opposites) director is planning a prequel to his much loved, 1987 Costner movie The Untouchables. The movie will be called The Untouchables: Capone Rising.
As the title suggests, it'll follow Capone's rise to power in Chicago, exploring his relationship with the law and detective Jimmy Malone, the aged cop played by Sean Connery in the first Untouchables movie. The prequel will take off with Capone's arrival, and then watch as he crosses path with a semi-corrupt Malone, who's shocked on to the straight and narrow by the level of violence on display in Al.
Does anyone want a prequel? No. We didn't want one to Carlito's Way either, but it happened. At least that one didn't involve De Palma and slipped quietly straight on to video.
Maybe this will somehow revitalize him. It's been a long time since Brian De Palma's name was synonymous with anything good. The last thing he did that anyone liked (besides the sexually charged opening to Femme Fatale) was the first Mission Impossible movie and trust me, it's aged poorly. Before that it was the aforementioned Carlito's Way in 1993. Since then he's tried a lesbian heist movie, film noir, even a 2001 knockoff. None of it's really worked. What I'm saying here is that at this point, a crappy prequel can't possibly hurt.
Your Daily Blend of Entertainment News
Thank you for signing up to CinemaBlend. You will receive a verification email shortly.
There was a problem. Please refresh the page and try again.