DiCaprio, Cooper And The Killing's Joel Kinnaman Among The Many Considered For The Man From U.N.C.L.E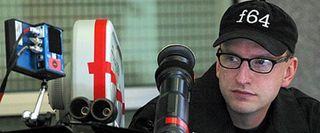 The revolving cavalcade of actors who have been, or currently are, attached to Steven Soderbergh's The Man from U.N.C.L.E is even more diverse and impressive than the ensembles in his completed films. After George Clooney, one of Soderbergh's favorite collaborators, had to depart from the project due to back problems, the floodgates of casting rumors flew open. Suddenly names like Ryan Gosling, Joseph Gordon-Levitt, and Alexander Skarsgard were thrown into the mix. Now, The Playlist is reporting this triumvirate of power players is merely the tip of the iceberg.
Apparently now that Clooney is out, reducing the film's immediate star power, Warner Brothers is pushing Soderbergh to consider big names like Bradley Cooper, Ryan Reynolds, Chris Pine, Christian Bale, Leonardo DiCaprio, Jon Hamm, Russell Crowe, and Robert Pattinson. So basically, the studio is throwing a phone book's worth of Hollywood A-listers at Steven, hoping something sticks. It doesn't seem like anyone in this group is being considered based on their appropriateness for the role, which is not going to sit well with Soderbergh, a director who has proven time and time again that he follows his own rules and is not known for compromising his artistic vision.
Case in point, while the studio is throwing all these names at him for the American lead in the film, what is he doing? Casting the second lead Russian counterpart spy. Soderbergh met with Swedish actor Joel Kinnaman from AMC's The Killing at Comic-Con to discuss the role. Kinnaman is also in the upcoming David Fincher remake The Girl with the Dragon Tattoo. Kinnaman is phenomenal on The Killing and an inspired choice for the role.
Meanwhile, Michael Fassbender and Ewan McGregor, who both just worked with Soderbergh on Haywire, are also being strongly considered for the American half of the U.N.C.L.E spy duo. While I would prefer Fassbender, either of these actors would be a terrific fit. Both are great actors who have demonstrated a knack for seamlessly integrating themselves into the swinging 60s in which The Man from U.N.C.L.E will be set; Fassbender in X-Men: First Class, McGregor in Down with Love.
It will be interesting to see who actually ends up being cast once the dust cloud of speculation clears and the February 14th start date arrives.
Your Daily Blend of Entertainment News
Thank you for signing up to CinemaBlend. You will receive a verification email shortly.
There was a problem. Please refresh the page and try again.