Diane Keaton Has Adventure After Husband Dies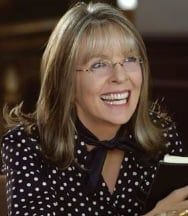 Diane Keaton was once a pretty hot property. It was around the time Jimmy Carter was President, but still. Her career seems to have peaked around 1981, but because she manages to crank out one mega-hit aimed squarely at white women over 40 every decade or so, she keeps hanging around. Most recently it was The First Wives Club in 1996 and Something's Gotta Give in 2003. Surrounding those films that almost no men would ever watch were lots of movies that no one, male or female, watched and no critic liked. These include Mad Money, Because I Said So, The Family Stone, Town and Country and Hanging Up.
Realizing that she does better with the Oprah set, Keaton has agreed to star in The Widows' Adventure. Variety describes it as a "road-trip dramedy" about two widowed sisters who travel from Chicago to Los Angeles. The trip involves revelation and reconciliation and the type of comic family shenanigans that typically occur in movie road trips. The other widow has not yet been cast and a director hasn't been chosen.
I'm all for movies that appeal to different but didn't we already do this movie with The Banger Sisters or The Bucket List. Don't women over 40 deserve something a little better than two women laughing, crying, and shaking their fist in anger as they travel across the American West? Don't we all wish that Diane Keaton would figure out how to pick scripts like she did back when a certain peanut farmer was President.
Your Daily Blend of Entertainment News