Director Betty Thomas Walks Away From Alvin And The Chipmunks 3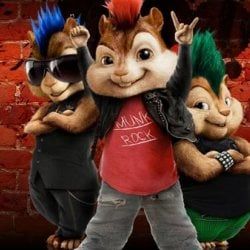 Presumably Betty Thomas knew what she was doing when signing on to direct a movie called Alvin and the Chipmunks: The Squeakquel, and when that movie grossed $443 million worldwide she walked away with exactly the paycheck she was looking for, and exactly the same lack of dignity that brought her to the project to begin with. Working with that logic it would be a no-brainer for Thomas to return for the third film, which is set to start production within the next few months in time for December 16, 2011 release date.
But not so fast! The LA Times reports that Thomas has walked away from the threequel, leaving Fox in the lurch as they try to snag another director in time to meet their released date. Fox isn't commenting on why she bailed, though apparently they've been going back and forth on whether or not to put the movie in 3D, so maybe Thomas was frustrated with the indecision and walked away?
Tim Hill, who directed the first film, has moved on to the Russell Brand live action/CGI project Hop, which is scheduled to hit theaters next April and likely won't be finished in time for them to wrangle him back to Alvin. I'm betting they call Marmaduke mastermind Tom Dey-- no, that movie didn't do so well, but it clearly doesn't matter who directs the Chipmunks movies, since these movies make money beyond all reason and logic.
Staff Writer at CinemaBlend
Your Daily Blend of Entertainment News
Thank you for signing up to CinemaBlend. You will receive a verification email shortly.
There was a problem. Please refresh the page and try again.