Disney Will Delay Pirates Of The Caribbean DVD For A Month After Blu-Ray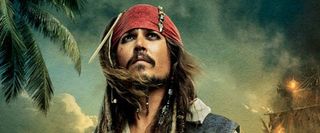 Disney may have given us a wealth of Pirates of the Caribbean films to stock our shelves, but with the On Stranger Tides release, they are holding back some of the booty. Yesterday, Disney announced the Pirates of the Caribbean: On Stranger Tides Blu-Ray, 3D Blu-Ray, and movie download release for October 18. Oddly, the only mention of a DVD release came with the available combo packs. Since Disney isn't known for making many mistakes, the looming lack of DVD release seemed like it could be a serious problem.
According to Blu-Ray there will be a DVD release of Pirates of the Caribbean: On Stranger Tides. However, there are some stipulations with the DVD-only product. The DVD won't hit the market until November 15, nearly a month after the other versions of the title become available. It's a long enough time away that even specs aren't currently available.
Disney is always changing up and tinkering with its advertising concepts. In fact, for the On Stranger Tides theatrical release, they opted for a 3D-only debut. It's not unprecedented the company would want to push its 3D and high-definition releases and if Disney is successful with its DVD shun, it might prompt other companies to follow suit. It's not looking good for the already dwindling medium.
But it is looking good for the Pirates franchise. If people go ahead and decide to purchase the Blu-Ray or 3D Blu-Ray copies of On Stranger Tides, the company will pull in a boatload more than it would if DVDs were an initial option. Just like the 3D theatrical release, the company is set to capitalize on limiting people's options. It may be an effective marketing scheme, but it's still pretty shitty. And I own a Blu-Ray player.