Disney's Live-Action Jungle Book Looks Beautiful And Fun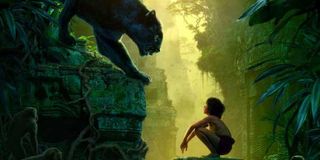 Earlier today, we showcased the first ever poster for Jon Favreau's upcoming The Jungle Book, which gave us a close-up look at the brand new live-action versions of some truly legendary literary characters. That, however, is not the full extent of the preview that we received this morning, as Disney showed off an entire sizzle reel from the 2016 blockbuster.
The new film was part of the huge live-action presentation that was held this morning at Disney's special D23 Expo in Anaheim, California, and in addition to revealing the movie's first poster and bringing stars Ben Kingsley, Lupita Nyong'o, and Neel Sethi to the stage, director Jon Favreau also introduced the first ever clips from the feature. And while it's not entirely done just yet, with still a great amount of post-production work to do, I was surprised by just how good The Jungle Book legitimately looks.
Beginning with voice over narration from Scarlett Johannson's snake character, Kaa, the footage started with the explanation of the conflict that exists between man and animal, with fire a.k.a. "The Red Flower" taking central stage with its ability to bring warmth, light and destruction. This is paired with footage of the tiger Shere Khan (Idris Elba) attacking a young Mowgli (Neel Sethi), the panther Bagheera (Ben Kingsley) finding the little boy, and Mowgli explaining to his wolf mother Raksha (Lupita Nyong'o) that he needs to leave his family before anyone else gets hurt.
This leads Mowgli to head out into the wilderness with Bagheera, and in the next scene they find themselves cautiously moving though some tall glass. In a moment of tension, the panther calls out "Down!" as Shere Khan suddenly attacks again – forcing Mowgli to run. He evidently winds up getting knocked unconscious after this experience, as he is then woken up by Baloo (Bill Murray) – a friendly bear who becomes the man cub's new travel companion. While they walk together, the giant bear begins to mumble the song "Bare Necessities," and Mowgli reveals that he doesn't really understand the concept of a song. In a wonderful little moment, Baloo explains that everyone has a song and starts whistling his little tune – which eventually becomes part of the score of the sizzle reel.
The preview concluded with a rapid procession of clips, featuring a herd of elephants, an actual appearance by Kaa (performing a bit of hypnosis), and a warning that if you "send a man back to the village, they'll make a man out of him." The showstopper towards the end, though, is the first appearance of Christopher Walken as the orangutan King Louie, who steps out of the shadows to proclaim, "I'm the king. Call me Louie." It wrapped up with shots of apes swinging through trees, Mowgli climbing up a rock face, and concluded with the line, "There are many tales told in the jungle, but none so strange as the tale of Mowgli."
When it comes to crafting live-action adaptations of animated classics, Disney has already had great success in the past couple years with both Robert Stromberg's Maleficent and Kenneth Branagh's Cinderella - and it looks like the studio will be able to continue that impressive stretch with the release of The Jungle Book next year. Admittedly, the animation required to make the animals talk struck me as a bit odd - just because it looked weird seeing such realistically-rendered animals forming English words – but overall I was impressed with what was shown. The movie is scheduled to come out on April 15, 2016, meaning that Disney probably won't officially be releasing any footage until the fall, but allow me to prepare you by saying that you'll be impressed by what it has to offer.
NJ native who calls LA home; lives in a Dreamatorium. A decade-plus CinemaBlend veteran; endlessly enthusiastic about the career he's dreamt of since seventh grade.
Your Daily Blend of Entertainment News
Thank you for signing up to CinemaBlend. You will receive a verification email shortly.
There was a problem. Please refresh the page and try again.