Bill Murray Will Sing The Jungle Book's Best Song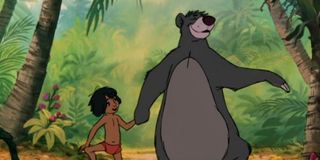 The wonderful, effervescent Bill Murray will grace us with his vocal beauty in the upcoming Disney live-action film, The Jungle Book. Bill Murray will play the fun-loving, goofy Bear, Baloo in Jon Favreau's upcoming adaptation. And while Favreau has previously stated that he does not want to completely replicate the beloved animated version, he has promised that Bill Murray will sing Baloo's famous song, "The Bare Necessities".
According to Entertainment Weekly, Favreau has decided to include some of the more memorable moments from the Disney animated film. The cast, including Neel Sethi as Mogli, Bill Murray as Baloo, Christopher Walken as King Louie, Ben Kingsley as Bagheera, Idris Elba as Shere Kahn and Lupita N'yongo as Rakcha will be taking on the Rudyard Kipling adventure once again but this time with a different tone. Not all of the original qualities kept have been discussed, but, in response to whether or not the famed "Bare Necessities" would be sung, Favreau stated:
So with a yes, we have a fun-filled Bill Murray song to look forward to in the upcoming film. Which may be a bit different than the last time we saw Murray sing, in the film St. Vincent, but equally enjoyable.
Though adding a song to the film may raise some eyebrows, questioning just how different this can be than the animated Disney adaption, it's hard to complain when you have someone as iconic as Bill Murray bringing the verses to life. And this is still a Disney film, so even if it is taking a tonally different take on the story, it still will have some childish entertainment elements added to it.
The star-studded cast, along with the studio's success in their original animated version is bound to do well in theaters, but another Jungle Book-inspired film is also in production, and set to release a couple years after Favreau's depiction. Warner Bros' Jungle Book: Origins also has some huge name drops in the cast including Christian Bale, Cate Blanchett, and Benedict Cumberbatch. But what makes the film so unique is that it will be directed by the live-action master, Andy Serkis. And I highly doubt Serkis will be having a cutesy, "Bare Necessities" song in his film. Even though, it really is so adorable.
The two versions will be entirely different films with their own unique styles. And while it still baffles me that two Jungle Book movies are coming in such quick succession, at least now we have something substantial to look forward to—Bill Murray's "simple bare necessities". Disney's The Jungle Book will hit theaters October 9, 2015.
Your Daily Blend of Entertainment News
Thank you for signing up to CinemaBlend. You will receive a verification email shortly.
There was a problem. Please refresh the page and try again.