The Divergent Series: Insurgent Honest Trailer Shows Everything Wrong With The Movie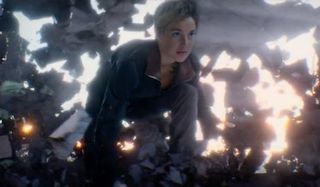 Adaptations of young adult book series have become some of the most consistently marketable films in contemporary Hollywood. From Harry Potter to The Hunger Games, the film industry is constantly watching and waiting for the next great series of novels to adapt. That being said, not all of these adaptations are created equal. A new Honest Trailer for The Divergent Series: Insurgent has just hit the web, and pretty much tears the film apart. Check it out below and see for yourself.
The trailer comes to us courtesy of Screen Junkies, and pretty much eviscerates The Divergent Series: Insurgent in less than five minutes. Before anything else, the narrator makes sure to point out that the film's director also helmed the critically reviled R.I.P.D, and the film's writer penned Batman and Robin; we should've known what to expect with this one. It then goes on to dissect the film and boil it down to what it really is: a bunch of nonsensical action sequences and plot devices that have more or less been done a million different times by a million different YA adaptations, ranging from The Hunger Games to The Maze Runner. The Divergent Series: Insurgent also completely lifts elements from The Matrix – something that we didn't even pick up on until watching this trailer, but now it seems so damn obvious side by side.
Of course, it's not all bad. The trailer goes on to emphasize that the movie does actually have something special in the form of actress Shailene Woodley, who plays heroine Beatrice "Tris" Prior. It doesn't have much else other than that, but dammit it has Shailene Woodley!
Young adult adaptations still have their place at the movies, but hopefully Hollywood will wise up and understand that audiences don't just want a repeat of something they've been fed before. Take the genre somewhere we've never seen before, or do these similar things in a different way. As this video points out and makes painfully obvious, The Divergent Series: Insurgent, as popular as it was, didn't break any new ground.
If you have yet to check out the video at the top of this article, do yourself a favor and give it a watch. What did you think of it? Do you agree with the observations made by Screen Junkies? Give us your thoughts and be sure to stay tuned for more of the latest and greatest entertainment news here at Cinema Blend.
Your Daily Blend of Entertainment News
Originally from Connecticut, Conner grew up in San Diego and graduated from Chapman University in 2014. He now lives in Los Angeles working in and around the entertainment industry and can mostly be found binging horror movies and chugging coffee.