Downton Abbey's Dan Stevens Signs Up For Liam Neeson's Next Action Film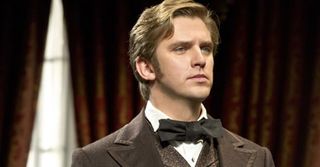 After melting hearts on Downton Abbey and hitting Broadway opposite Jessica Chastain in The Heiress, Dan Stevens is having a serious career moment… and now he's going to make it even bigger, with the help of Liam Neeson.
Stevens is now in talks to join Neeson in A Walk Among The Tombstones, which Scott Frank will both direct and adapt from Lawrence Block's novel. Neeson will be playing an ex-New York cop hired to find a drug dealer's kidnapped wife, and in the way that so many investigators do, he discovers the story goes a lot deeper than that. There's no word yet on which role Stevens would be playing, but it would be fascinating to see him shed his clean-cut Downton Abbey reputation and play one of the bad guys that Neesoon is hunting down. More realistically, though, my money is on him playing some kind of fresh-faced assistant who helps Neeson out-- like Maggie Grace in Taken 2, but with less grenade-throwing.
This isn't even the best post-Downton role that Stevens has lined up, either. He's currently at work on The Fifth Estate, the biopic of Wikileaks founder Julian Assange that will star Benedict Cumberbatch and Daniel Bruhl. It only seems a matter of time before he winds up on some shortlist for one superhero or another-- the inevitable Captain America reboot in 5 years, maybe? And with fans saying that Downton is going downhill, Stevens' decision to leave the show is seeming smarter and smarter-- especially now that he's snagging film roles like these to make up for it.
Your Daily Blend of Entertainment News
Staff Writer at CinemaBlend