Downton Abbey Star Elizabeth McGovern Sticking With The 20s For The Chaperone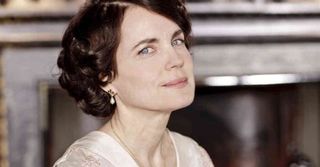 The massive success of Downtown Abbey could promise to bring back a resurgence of costume dramas or movies about the British class system, but that kind of trickle-down trend effect takes a while in Hollywood. What we can count on right now, at least, is a lot more work from the various stars of that show-- and for period pieces to surely be thrown at them in spades. Elizabeth McGovern, who plays Cora Crawley on the show, has picked one up from the pile, and will one again find herself in a story set in 1920s, though one about the "roaring" era in the United States instead.
According to Deadline, Fox Searchlight has picked up the worldwide rights to The Chaperone, Laura Moriarty's best-selling novel imagining a trip that silent film star Louise Brooks took as a 15-year-old aspiring dancer, traveling to New York to study at the Denishawn School of Dancing. Accompanying her is Cora Carlisle (yes, McGovern is on a roll with characters named Cora), a reserved woman who travels to New York both to look after the young Brooks, but discover something for herself. As the book's description puts it, "The Chaperone illustrates how rapidly everything, from fashion and hemlines to values and attitudes, was changing at this time and what a vast difference it all made for Louise Brooks, Cora Carlisle, and others like them."
On board to direct is Simon Curtis, who had a pretty hefty hit with My Week With Marilyn-- and who also happens to be married to McGovern, which is pretty convenient for the both of them. No word on who will play silent screen icon Louise Brooks, but that ought to be an excellent role for a teenage actress with charisma to burn. The movie may wind up being more Boardwalk Empire than Downton Abbey, with its New York setting and aspiring flapper Brooks at the center of the story, but after three seasons of Downton, McGovern too may be ready for the change.
Your Daily Blend of Entertainment News
Staff Writer at CinemaBlend