Dracula Untold International Trailer Reveals New Footage And Much Rage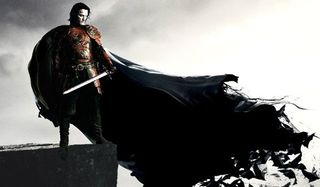 Maybe you think you know the story of Dracula, but Dracula Untold is unfurling a drama-packed revamp of the classic vampire tale full of gruesome war, family loyalty, and heinous curses. In the trailer above, see Luke Evans (The Hobbit: The Desolation of Smaug, Fast & Furious 6) as Vlad Tepes, a man who will risk anything to save his family from the greedy maws of war, even if it means becoming a monster.
Dracula Untold, or Dracula: Year Zero as it seems it's being called overseas, is intended to be a key step in Universal Pictures effort to reboot their classic monsters, like Dracula, Frankenstein, the Invisible Man, Creature From the Black Lagoon and the Wolfman. While the announcement of that plan is relatively recent, this particular re-imagined origin story has been a long time in coming.
Back in 2007, The Crow's helmer, Alex Proyas, was hired to direct the project. At this time, it was known as Dracula: Year Zero, and was poised to shoot in Australia with Sam Worthington (Avatar, Clash of the Titans) as its lead. However, budget battles killed this incarnation, and Proyas bailed. By early 2012, Universal had Irish filmmaker Gary Shore in talks. He later signed on, cementing Dracula Untold as his feature directorial debut.
By early 2013, Sam Worthington was out. In his place, Universal Pictures and Gary Shore secured rising ingendude Luke Evans, who coincidentally is attached to star in The Crow reboot as well. (The dude likes playing brooding, revenge-fueled undead guys it seems.) Shortly thereafter, Sarah Gadon, who drew notice in David Cronenberg's challenging 2012 drama Cosmopolis, signed on to play the film's female lead. Dominic Cooper, Samantha Barks, and Zach McGowan soon followed.
Production began in August of 2013 in Northern Ireland. That fall the film earned a new title Dracula Untold. "Forget your classic Dracula, your Dracula: Dead And Loving It, your Dracula 2000, your Bram Stoker's Dracula," this new title seems to suggest. "This is a Dracula unlike any you've seen before!" But a shift in release dates has made this reboot seem troubled at best.
In April of 2013, Universal set Dracula Untold for August 8th, 2014. However, after production began, the release date was pushed back, from the spotlight of summer to October 3rd. Once production on the pic was drawing to a close, Universal made one last adjustment, pushing Dracula Untold closer to Halloween. Now, Dracula Untold will open on October 17th, where it will compete with the Michael Keaton-fronted Birdman, David Ayer's star-stuffed WWII drama Fury, and the animated adventure Book of Life.
To see another Dracula Untold trailer, click to the next page:
Staff writer at CinemaBlend.
Your Daily Blend of Entertainment News
Thank you for signing up to CinemaBlend. You will receive a verification email shortly.
There was a problem. Please refresh the page and try again.