Dragon Tattoo Sequels Still On The Books Says Sony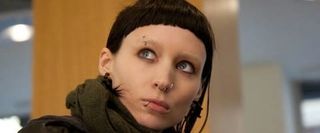 It's no surprise that David Fincher's Girl With the Dragon Tattoo film isn't doing gangbusters at the box office. The hard-R film is frequently referred to as "that rape movie" which is enough to scare off a lot of viewers, and Fincher's brand of gritty thriller doesn't always appeal to the masses. Barely breaching the $60 million mark after two weeks in theaters, the obvious question becomes whether or not the second and third books in the series will find their way to the big screen and remain economically viable.
Sony seems to think so. EW has it that Sony is definitely still planning on getting the sequels made, and in fact they already have screenwriter Steve Zaillian working up the next two scripts. The first sequel, The Girl Who Played With Fire, has a targeted release date of "late-2013" which will set the series up to continue its Christmas release trend. So despite lacking returns from Dragon Tattoo, expect the other two Stieg Larrson novels to be adapted.
With the development confirmed by Sony, it's only a matter of time before they nail down Fincher again. The director hasn't confirmed his involvement in the sequels yet according to EW, but he has openly stated that he hopes to film the two back-to-back in order to save Rooney Mara, who plays the series' female lead Lisbeth Salander, the trouble of having to return to such a troubling character time and time again. Mara and Daniel Craig are both already signed on for the sequels.
As the weakest book in the series as well as the weakest of the Swedish film versions, it will be interesting to see if Fincher and Zaillian can add some pop to the story which, unlike the first in the series, spans both of the final two books. We'll have our ear to the ground for more details on the development of The Girl Who Played With Fire as it pushes forward.
Your Daily Blend of Entertainment News